Mechanical Cabaret - Selective Hearing (Deluxe Edition)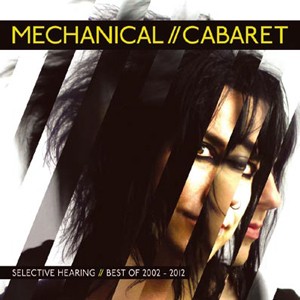 Reads: 1564 times
71%
Galleries:
CDs catalogue:
For some 14 years now British Mechanical Cabaret have been active providers of pulsating electro but only now do they officially cross the ocean and assault audiences in America.
Selective Hearing
, released via Chicago based WTII spans material from band's four long playing albums and registers as a thoroughly entertaining, if decidedly oldschool, collection.
Gothic, yet club friendly, Cabaret's method is a melange of ominous melodies, beeping synths and raw, punk-esque vocals. From the first, opening notes of energizing 'Nothing Special', through distorted textures of 'Cheap and Nasty' to haunting quality of 'See Her Smile' joined effort of Roi Robertson and Steve Bellamy echoes the moods and the sounds of the golden standards of British alternative- from Throbbing Gristle, through catalogue of 4AD to David Bowie. Down the rabbit hole
Selective Hearing
ensnares the listener, somewhere beyond the constraints of time and genres, with diverse combination of ascetic industrial ('Black Canvas') and lively electro ('Disbehave'). In fact half of the pleasure in rediscovering these lost hits lies in tracing the evolution of band's method that somehow, along the road, managed to never forgo the eclectic vibe of their music. Track list closes with darker, densely layered compositions- 'Ne Plus Ultra' and 'In Loving Memory' and introduces the brand new 'Why So Serious?' that sadly confuses usual cynicism of the lyrical content with corny humour.
Limited edition of the release comes packed with a bonus remix CD that although not compulsory contains obvious highlights like Mesh's excellent take on 'Disbehave' and playful Real Horrorshow version of 'GBH'.
While some of the tracks collected on this record seem to deteriorate, burdened by the cruelly inevitable passage of time,
Selective Hearing
is hardly a throwaway. Mechanical Cabaret were a secret so well hidden and for so long that this 'debut's' dated appeal feels compelling and entertaining. With the imminent arrival of already announced new material British duo might yet capitalize on the solid foundations presented on this release and take hostile territories by the storm.
Track list:CD 1
01. Nothing Special
02. See Her Smile
03. Cheap and Nasty
04. Blank Canvas
05. Disbehave
06. Don't Murder Me I'm Drowning
07. GBH
08. Pretty Fucked Up
09. Careful, Careless
10. Ne Plus Ultra
11. In Loving Memory
12. Why So Serious?
CD 2
01. Why So Serious? (12" Extended Mix)
02. GBH (Real Horrorshow Remix)
03. See Her Smile (Radiophonic Mix)
04. Disbekomputer (Disbehave Remix by Komputer)
05. Careful, Careless (Fur Coat No Knickers Mix)
06. Ne Plus Ultra Exquisitely Extended Mix
07. Cheap And Nasty (Nag Nag Nag Remix by Atomizer)
08. In Loving Memory (Steve Bellamy Remix)
09. My Sex Life (Electrogogo Mix)
10. GBH (Deutsche)
11. Disbehave (ASBO Mix by Mesh)
12. When We Go We Go Together (Lupin & Tonks Version)
Other articles:
Newest comments: