Mind.In.A.Box - Revelations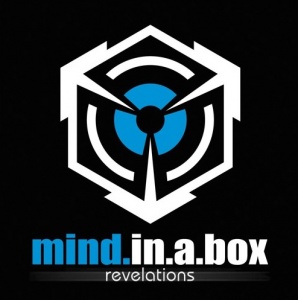 Reads: 4797 times
85%
Artist:
Galleries:
CDs catalogue:
Last topics on forum:
Long awaited (over 2 years) by me the new release and next IV-th part of S-F story about Black, Night, The Friend and Agency, that is V-th album of Austrian project Mind.In.A.Box "Revelation".
Amazing Mind.In.A.Box. in cyberpunk climate, refreshed by strong Stefan Poiss's vocal, bravely going out from behind the vocoder. The voice, whose full potential could have been heard only live on stage so far. The album, where melodies perfectly build and electrify atmosphere of hypothetical Dreamweb universe, referring to films like Matrix and Blade Runner. Floating beats mixed with trans and with beautiful synth melodies, exposing sophisticated Hardwiger's lyrics. Suppressed anger and pain on a previous albums, now on "Revelations" give a vent, in its own sublime way.
Black is seeking himself, his memory, his truth, suspended between Dreamweb and reality, mysterious Night and the Sleepwalkers chasing them. A metaphor of imprisoned minds, unaware of their confinement and restless feeling aloneness in the world. You know that theme, right?
The tracklist opens with undoubtedly the most powerful, full of claims and pain, piece Remember during which we feel like we want to scream as well and after hearing there is no doubt that Black is on the best way to revelation. Whereas in the booklet attached to the CD, after short Andreas Gruber's introduction, the story opens with Transition asking "Where is the music?" and ending with well known synthetic modulated vocal Unknown, which closes the story unfinished leaving place for an individual listener's reflection and hope for continuation.
As the previous sequels, new compositions create the perfect whole. Ladies and Gentlemen, there is no amateurism here! Mind.In.A.Box has to be listened to and read from the beginning to the end. Eclectism and multidimensionality in the lyrics and in the music through among others characteristic for Mr Poiss frequent changing tempos numerous plus metaphorical lyrics, give possibilities of wide interpretation and perception of single pieces as well as whole sequels. This makes the albums so special and climatic. Only tycoons of the clubs can feel disappointed as they won't find common floorkillers on "Revelation".
Yes, definitely it is worth to enter for a moment this metaphorical cyber universe, for sound, for reflection, to find ourselves and free our minds from the shackles of everyday life. Run away to the world, where music is the key.
To be continued….
Curiosity is that the album has been released under Dreamweb Music Label (www.dreamwebmusic.com) sign, which was set up by band members themselves. The boys took matters into their own hands and as they say "the artists are free and fully responsible for the outcome of their work". All in all I'm very happy that my favs didn't give up and now I can fully enjoy their brand new revelation.
Tracklist:


01. Remember
02. Cause and Effect
03. Transition
04. Doubt
05. Control
06. Fragments
07. Unknown
08. Not Afraid
09. Second Reality
10. Sanctuary
Other articles:
Newest comments: