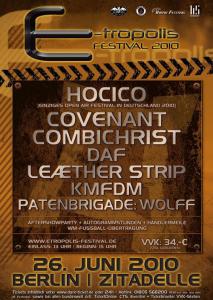 Reads: 8585 times
Artist:
Galleries:
Last topics on forum:
The surroundings of Tegel, a closed airport in Berlin, welcomed us with a blistering heat but also a wonderfully empty parking lot under the police station. After a short walk to the Columbia complex and after a usual, professional and factual as always, briefing at the gate we were allowed inside the main hall. The first impression – warmth and a lot of space. Without much hesitation, we were off to the courtyard, separating two concert halls, in order to purchase some refreshing drinks and find some fancy gadgets related to Feindflug at the Black Rain's stall. While waiting for the beginning of the concerts, we met some friends from Poland, as well as from other countries.

With regard to the gigs - Patenbrigade: Wolff was the first band to perform – wearing blue-collar-worker-style outfits, with special effects provided by their angle grinders, playing typical, German 'soft' electro, they met with a positive feedback from the audience, despite the early hours they gave their show at. I have a feeling that the band will be offered to play at German festivals more and more often.



Setlist:
Unsere Patenbrigade
Stalinallee
Feind hört mit
Gefahrstoffe
Popmusik für Rohrleger
Schusswelchsel
Ostberliner Bauarbeiter
Abrissbude
Demokratischer Sektor

The next performance belonged to KMFDM – the prime league of the independent music. They managed to gather a distinctive bunch of individuals in front of the stage and started off in a harsh way with their usual introductory anthem. Sort of a twisted luck – the vocalist was a bit muted, most probably some problems with his groove box, yet generally KMFDM showed their best and kept the level.



Due to high temperatures inside the building we were forced to leave it every so often to recomplete our drink supply or enjoy the company of our friends in the shade of Columbia Club. We had opportunity to catch sight of Cyborg Attack – unluckily it was not that thrilling an event hence we spent about five minutes watching them then left quickly to see the show of Leather Strip. The records of LS had not managed to appeal to me so I was more than anxious to see if they could leave a lasting impression on me with their live show. Generally speaking, his music still does not enchant me but the thing that matters is that he does play what he likes and he does not pretend – just conscientiously fulfills everything they way he wants.

Setlist:
1. Intro / My shadow is your home
2. Turmoil
3. Desert Storm
4. Hate me
5. Introvert
6. Japanese Bodies
7. Body Machine Body
8. Strap me down
9. Black Gold
10. Don't tame your soul

The next event was a performance of DAF, a real feast for every EBM-lover. How can I summarize it? The first class of performance, a really cool show, every person in front of the stage was moshpiting heavily, the weaker simply surrounded that dance-blitzkrieg, hectoliters of water spilt on the vocalist's head and finally – the hit songs, which have been played at many parties for years now.



After the show the recuperation of strengths was more than necessary,given the fact that a German beast Feindflug was to perform next. The props were unequivocal – The Eastern Front Line. Machine guns, fortified defensive positions… Panzer… They started violently - a nothing-expecting editor of AlterNation, standing circa 15 meters from the stage got hit by a drumstick, straight from Feindflug's drummer with "love". I have had it in my car as a schwartz-keepsake ever since. Wonderfully military visuals, an ominous logo in flames, all the best hits flowing through the air… As heavy and perfect as Wermacht's boot - one of the most important moments at the festival.




Owing to the fact the shows were given almost simultaneously, we skipped the very end of the Feindflug performance and headed for the club to see eagerly expected Mind.In.A.Box. Despite my earlier apprehension, the place quickly filled up with people and the gents from Vienna commenced their magic spectacle. The music of MIAB can be described as a blend of trance, electro and electronic of the 80's additionally enriched by an extraordinary vocal, artfully distorted by electronic vocoders and filters while playing live – it accounts for an one-of-the-kind impression, defying any description. It is a pity they show lasted only an hour and lacked some hit-songs, yet I cannot grumble – it was perfect, all in all.



After the end of their gig – in my opinion, the best of the evening – we managed to see the second part of Combichrist's performance. Certainly, a majority of you has seen them playing live at some point of your lives – nothing has changed in that matter – and that is an advantage! Full professionalism, the sheer energy emanating from the stage throughout the concert – you could not tell from whom the most – the crazy drummers or Andy LaPlegua himself – a non-stop manic electro circus. Combichrist managed to heat up the atmosphere, even though it had been already hotter than hell's pit.



Setlista:
All Pain Is Gone
Rain Of Blood
Scarred
Electrohead
Without Emotions
Feed Your Anger
Get Your Body Beat
Blut Royale
Fuck That Shit
Are You Connected
This Shit Will Fuck You Up

Encore:
Shut Up & Swallow
What The Fuck Is Wrong With You

After Combichrist, another big star appeared onstage – speaking of Convenant, obviously. For over a year they have been playing with a new member – Daniel Meyers of Haujobb, Destroit or Archiktekt. They started off decently – great arrangements, Eskil at his best, Daniel fooling around incessantly, and the new tracks – wonderful. Unluckily, a bit later Joakim "fell ill", most probably because of the drinks he had drunk earlier, hence some interruptions appeared, the shoe became more of a 'rock'n'roll' style rather than electro, which I had expected, yet we should drop the subject right here.



At the end the last band, Hocico, took the stage – a review of their performance by Dobermann will be up soon for I had to get some sleep and necessary strength in order to drive us safely back to Poznań.
The festival itself was perfectly organized – an usual thing in Germany. The next edition is planned to take place in September, 2011 – it is really worth reserving a weekend, even at this very moment!

Hocico showed exactly what may have been expected form such a great band - the highest level of the performance! Over-an-hour set with the best tracks from the majority of their records and, as an addittion, a new piece of music straight from their upcoming release. The wonderful sound pleasure was complemented by excellent visuals - simply flawlessly played show enriched by harsh and dirty pictures. The only drawback of the concert is the fact it was far too short!



Setlist:
1. Breathe Me Tonight - Intro
2. A Fatal Desire
3. Born To Be Hated
4. Spirals Of Time
5. Untold Blasphemies
6. Dog Eat Dog
7. Love Posing As A Prostitute
8. Bloodshed
9. About A Dead
10. Escape The Spell
11. Odio Bajo El Alma

Encore:

12. Forgotten Tears
13. Poltergeist

Pages:
Other articles:
Newest comments: