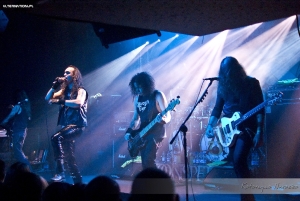 Reads: 3239 times
Artist:
Galleries:
Last topics on forum:
Carnal

It's always hard to be the first one warming up the show. However, with great energy and good response from the crowd, like it was it this case, it happens to be quite easy. Thus, the band really did their job amazingly. They had a good contact with the audience that clearly knew them quite well. And they managed to gather quite a crowd under the stage, which can never be taken for granted. There even was a moshpit and headbanging all around the venue.
When it comes to music, the band did a good show of solid metal music. Pleasant to listen to, perfect to freak out a bit.



The Sixpounder

The second band was also well known to the, still growing, audience. The musicians brought quite an energetic metal hell with them, with drilling guitars, ramming drums and some serious growling. The music was way heavier, more pinning to the ground then that of their predecessors.
They also had a very good contact with the audience and got powerful response, even more so when they made the crowd scream for Moonspell.
They did have a great surprise prepared. It took quite a while to recognize the cover (and I didn't really believe what I heard at first) of Ghostbusters, but they did a great job with the song. And it seemed the audience liked it very much as well.


Moonspell

When the time came for the main act, the club was buzzing with energy and anxiety. It doesn't matter that the band comes relatively often to Poland – fans are fans and they are always more that delighted to see their idols. Therefore, when the lights came down and the small intro started, the crowd went mad. Applauding every musician as they came onstage one by one, the audience greeted them and than hell broke free with the notes of Axis Mundi. It didn't stop there, after the first song, but continued on and ever grew wilder with the next three, that were a musical bridge between band's last three studio albums.

After that the tempo slowed down a bit with two songs from their Irreligious album - Opium and Awake. While the second one was quite a surprise, the former was greeted with a great enthusiasm worthy of an all time favourite that it is. What followed them was a true breather – three calmer songs, again, crossing Moonspell's rich output. Nocturna was a really pleasant surprise, as I never expected them to still play it. Scorpion Flower, as Fernando asked, was performed with great help of the audience, filling Anneke's lines. And finishing the slower bridge was New Tears Eve from the last album, Omega White, a tribute song to Type O Negative's late singer.

Then, the time has came for a 'wake up' with three much more powerful songs from Alpha Noir album. The last of them, Em Nome Do Medo has, exceptionally, lyrics in Portuguese, but it didn't stop the fans from singing along. Following that Vampiria sounded, to the great applause of the audience. It's another one of the songs that, although old, are often played and always warmly welcomed. And, after that, came probably the biggest surprise of the evening. Already the announcement has confused the fans greatly. Fernando was saying that they will play a song from Wolfheart times that didn't make it to the first album, although it was a good one. A song referring to Lusitanian gods and beliefs. Even though the fans seemed a bit lost, as soon as first notes of Ataegina started, the crowd went wild dancing to the jumpy melody. The strangely unexpected but absolutely positive energy was flowing around the venue throughout the whole song.
The main part of the show ended with Alma Mater, impatiently awaited and greatly appreciated hymn.

The band didn't make the audience wait long before they came out for encore. They played a trio from their first two albums and finished for good with classic Full Moon Madness.

I must confess I had high expectations for Moonspell's concert, hearing for quite some time how good they are onstage. And, I admit wholeheartedly, it was a marvelous show. The atmosphere was fantastic, with the band having a truly great contact with the audience and the fans being very responsive and enthusiastic. I'd gladly see them once again and, with all my heart, I'd recommend it to every one!




Setlist:
1. Axis Mundi
2. Alpha Noir
3. Finisterra
4. Night Eternal
5. Opium
6. Awake
7. Nocturna
8. Scorpion Flower
9. New Tears Eve
10. Lickanthrope
11. Love Is Blasphemy
12. Em Nome Do Medo
13. Vampiria
14. Ataegina
15. Alma Mater
Encore:
16. Wolfshade (A Werewolf Masquerade)
17. Mephisto
18. Full Moon Madness
Pages:
Other articles:
Newest comments: