Organic Cage - Kill Your TV EP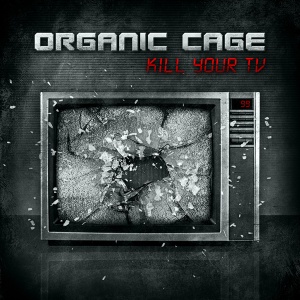 Reads: 2621 times
80%
Artist:
CDs catalogue:
The overwhelming power. These are the first words that come to your mind after the encounter with this record. The 'powernoise' phrase has every right to be related with Organic Cage for it is as terrifyingly intense as the music itself. Wear your seatbelts and prepare yourselves for 20 minutes of really heavy noise. Here comes a review of an EP entitled "Kill Your TV".
The record opens with the title track, which is a really heavy piece. The industrial atmosphere and reverberating beats, which will perfectly fit every dancefloor, attacking our ears with its 4-minute relentless power. No slow-downs, no melodics in the classic sense of the word. The noise. Utterly fantastic noise. Then we have "Noisebleed", whose beginning May suggest a slightly slower track, but after a short Chile we Get back to the atmosphere and rhythmics similar to the ones typical of the first piece. Here, as in the previous tracks, short pieces of lyrics (sampled?) appear, yet they cannot be called 'vocals', rather somewhat of a recitation, or some sentences taken out of the context. "Creative Self Destruction" does not differ anyhow from its predecessors, apart from the fact that it may seem slight "calmer" and its beat brings associations with Combichrist (however, it might be only my impression). The last regular track on this EP, "Feind Hoert Mit", does not distinguish itself amongst the rest. I have used the adjective "regular" for there is another track that follows it, "Kill Your TV (Zapped by Xotox), which is a lot different than the original version and I have to admit the remix is by all means interesting.
What shall I write as a conclusion? This is surely an approachable piece of music, but this is virtually the charm of powernoise. If you are a fan of Depeche Mode, any sort of heavier electronics just puts you off, and the only thing you expect from music is melodics, do not even bother with this record, for it will simply not appeal to you. It is a good piece of interesting sounds, yet not for everyone, a bit like Merzbow, or The Dillinger Escape Plan. I am all for this record, which, to me, can help to give vent to all your negative feelings, while simultaneously having an interesting, industrial-cyberpunk atmosphere (at least these are my associations). If you are into musical experiments – I do recommend it!
Tracklisting:


01. Kill Your TV
02. Noisebleed
03. Creative Self Destruction
04. Feind Hoert Mit
05. Kill Your TV (Zapped by Xotox)
Other articles:
Newest comments: