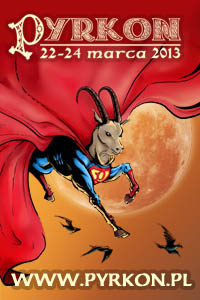 Reads: 3990 times
Galleries:
This year PYRKON fantasy convention has surpassed all expectations of both participants and organizers. Already on the first day of the convention the number of visitors exceeded the sum of all admissions from the year before, only to grow to twice as much by the end. Poznań International Fair was filled in total with more than 12 500 people! This is one of the most impressive results in the history of Polish fantasy conventions. It also seems that it's a clear proof that the convention was well organized and efficient.
Let us then take a look on what PYRKON has offered us this year.

FRIDAY
The day started as every year - almost a kilometer long queue lined up, this time for both entrances to the Fair, patient fantasy lovers bravely endured the discomfort of long hours of standing and bitter cold. But they knew what they're waiting for - this year, as never before, the program was filled with offers that went way beyond mere lectures, battle games and games room. What's more, a special English block was opened for people coming from abroad (or possibly wanting to improve their English) as well as workshops block allowing a more or less creative expression using all kinds of materials and in well diversified subjects.
On the first day we were able to admire an absolutely, extremely rich offer of fantastic shops interspersed with exhibitions, where you could find almost everything - jewellery (mainly in the recently most fashionable steampunk style) t-shirt with all kinds of imprints, books, games, figurines, dice, pillows, pins and other things by which it was difficult to pass and leave a smaller amount than a four-digit one... Highly attracting interest were costume hiring point, with a wide choice of garments, and amazing in their accuracy models of the most famous vehicles from Star Wars. Their execution took the designer a few years of daily work - it was surprising that he dared to expose them to the delight of the general public without any protection or even a cabinet or a tape defining the a line that should not be passed.
Day ended with shows on the Square and a concert of Percival Schuttenbach band, who... well. Musically and energetically, as usual, they showed high level, but like all things presented on the Stage - were victims of Sound Engineering Gentleman, because of whom it was hard to sit throughout any of the events. Perhaps it's the fault of acoustically poorly adjusted hall, maybe it was hard to set the equipment, but it's hard to resist the impression, that had the amount of served decibels been reduced, it might have been a bit better in reception. We shouldn't judge, Sound Engineering Gentleman were paid for that - but this time they really showed their skills weakly.

Throughout the whole convention the strongest regulars could enjoy the benefits of Pyrkon24h - for the entire duration of the convention one could play in games room, but also the program offer provided lectures until the early morning hours. And it attracted inexhaustible interest of the participants!




SATURDAY
The morning view was unforgettable - everywhere, as far as the eye could see, swarms of fantasy fans were there and it was difficult to find a place, a single room or corridor, where there was no need to push through surging crowds. This of course had its bad side - unless you stood at least fifteen minutes before the room, where the dream lecture was to be held, entering inside, or even crossing the hallway was practically impossible. Fortunately, those who didn't make it and had to deal without it, still had plenty of options to explore / view / listen / see. But here arises another drawback - highly popular were lectures in the scientific block, but the rooms where they were held, didn't suffer from spaciousness. In each of these about 50, maybe 60 people fitted at most, sitting on every available space on the floor. There was at least twice as much interested... On the other hand, Polish fantasy writers, who had really big halls booked for their author's meetings, did not enjoy such a great popularity. This raises the question - why? Is it out of politeness and respect for the creative people issuing their works that it was decided to put them into such and no other rooms, or maybe Polish writers' ego is so big that if you put them in a little smaller room it would be an insult, sigh, massacre, and in general they wouldn't appear anywhere anymore? However, leaving a specific drama out of the statement, I hasten to explain - perhaps it was just hard to predict what-where-who will enjoy such and not another popularity, and hence this kind of dissonance. Writer is uneven to a writer - some had more, others less fans present but the queues for autographs have always been great and it's a true measure of creator's popularity.
The meeting with a foreign superstar, a world-renowned writer Graham Masterton went smoothly and interestingly, it couldn't go without more than a half-hour conversation with sex as a main motif. No wonder, since Masterton with his "Magic of sex " book is thought to be one of the "awakeners" of Polish sexual awareness after the change of political system (it seems controversial, whether we should combined one with another, but since it's told so, we shouldn't argue).

One of the main points of the program, or at least one enjoying an enormous popularity and well promoted was Masquerade – The Great Costume Contest during which we were able to admire a wide range of all kinds of disguises. There were classic manga / anime, and the Star Wars universe, characters from games and movies of all sorts - in short, something for everyone! Good hosts complemented the event, everything went pretty smoothly, if not... right. Sound system. There were not too many people, apart from the most interested participants, who were able to sit through without worrying about hearing loss. Sound spots overlapped one another, at some point, even the host was barely audible... Nevertheless, really faithfully and skillfully made costumes won or were awarded.

Mentioning all the interesting points of the program would take a lot of space and time. We must not forget that Pyrkon created a space where everyone could find their place and had the opportunity to show interesting things to other people. There were fight shows in which knights performed in authentically heavy and faithfully recreated armor, and when it came to the battle – they didn't pretend their attacks, showing a real duel... Similarly the fire show - artists bravely coped without t-shirts at temperatures below zero just to get the desired effect. You could also learn fighting with katana in a specially adapted part of the corridor in the main hall... A multitude of offers surpassed any average participant. Only giving up majority of specific activities you could easily walk and grasp what and where took place, and even then there was no guarantee that you would reach everywhere.

Saturday was also a day of exciting concerts. It started with the artist, who often appears on many different conventions in the country – she has presented a collection of songs accompanied by an early Celtic harp. What can we say... I admire her and kowtow for the determination and consequence in the chosen life path. However, the choice of clothes was not really good - I'm not talking about "style" because it looked really nice, but the CORSET. Corset blocks the diaphragm, it is IMPOSSIBLE to sing well in a corset! And unfortunately, that's what came out. Emission was poor, rather than nicely backed sound there was a classic, dry crow. Such a pity! Barbara Karlik can really sing and she does it skillfully, the number and type of events for which she's invited is the evidence of what... This time, however, musically it was not as good as it could be.

Continuing the pyrconcerts thread, Deriglasoff Band began to play with really hardly acceptable, more than forty-minute delay. Again, you can say "but after all two bands were plugging in, there were problems... ". Wait a minute! We, the participants, didn't have to care. And we would if some one came onto the stage and say, "Sorry, we have technical problems, be patient... " – it'd be different all at once.
And so, here and there one could hear the familiar ditty "ku*wa mać, ile mamy stać..."
Nevertheless, the concert came out sooooo well – there was energy, strength and power, rousing to jump. The singer's amazing voice made a unique atmosphere, a lively, punk rhythms only augmented the experience. Sound system was what it was, but the fun was great!

Then it was time for Power of Trinity, and they came onto the stage relatively smoothly - musicians only plugged their instruments and the concert began almost right after the previous one. How did they come out? Well, it depends on how many fans were under the stage and how they were received. On one hand, it's a great thing and a good promotion for Pyrkon to invite a radio star - on the other hand, however, an average listener may not appreciate the music of Power of Trinity only because of its... hmm, repeatability? The band doesn't bring anything constructive into the history of Polish rock music, in addition, the singer's specific voice doesn't have to appeal to everyone. There was nothing from the energy that we've seen before - just such a concert of an absolutely overly promoted band.

The strongest ones occupied again all-day points of the program, some of the participants went to sleep in an extremely huge Fair's hall or school - they also couldn't be refused their endurance, because sleeping with hundreds of other fantasy fans is no small feat... It was necessary, however, to regain energy for Sunday.


SUNDAY
Sunday is very particular day for each convention. All chart-topping events are placed on Saturday, because that's then the most people come - but a day later, after the intricacies and intensity of Saturday, a kind of "pass up" is visible. Few convention goers are able to get up for the morning lectures (which, for those who did, was an extraordinary advantage - anywhere they wanted to go, they could). Also the lectures offer is quite impoverished, but – it's not the case of Pyrkon, as it turned out. You could see that the organizers made a point to maintain the level until the end. Of course, in some of the blocks contests finals had to be done, it was due to their specific nature - but the rest of the blocks and shows continued the good program offer. There, too, it was the time to gather the visitors' opinions.
Most of them admitted that they were Pyrkon regulars for several years and the size of the convention was not surprising, even though they haven't expected so many people. Others, who were there for the first time, said that the huge amount of events and the number of people frightened them, it was also hard for them to enter the lectures they had chosen from the program. Again, the problem of too small scientific and film rooms appeared, but when asked whether they'd come next year to Poznań, they definitely said YES.

As you can see, despite a few drawbacks PYRKON 2013 convention can be classified as the most successful. Perhaps there was more than enough participants, but you can't blame the organizers for having done an event "too good"? Probably not. The staff should get deep bows for such a well organized event, and how the participants felt in such a large group and what they will do with this next year, that's their private thing.

Bravo Poznan!
Pages:
Other articles:
Newest comments: