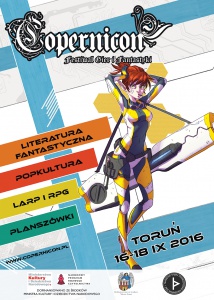 Reads: 3381 times
Galleries:
Toruń greeted Copernicon participants with beautiful summer weather and a holiday atmosphere. Conditions ideal for a stroll through the old town to find all festival locations - fortunately, they turned out to be close, in a walking distance from each other. This allowed the movement between attractions to be very easy and pleasant, although it made the participants spread throughout the Old Town and the festival seemed not very coherent.
It was worth starting the visit to Toruń with a lecture about fantastic places in this city and it was a very good introduction to the Copernicon climate. Amazingly, from the first lecture of the day the audience was numerous. Only author's meetings that took place in the largest of the offered rooms were not very crowded.
By far the most interesting event of the day, though closed to the public, was the Grand Cosplay Ball, during which, participants dressed in gorgeous costumes, danced and played together in one of the rooms of the Artus Court.
With the end of the day more and more participants were coming, and in the evening Toruń definitely became the most fantastic city in Poland.
Saturday was definitely more colorful than Friday, and all this thanks to numerous cosplayers, who embellished the streets of Toruń. The second day of the festival undeniably passed under cosplay sign, with a parade that passed through the city during the day and with the great costume competition in the evening.
Of course we can't forget about the many interesting lectures and author's meetings that filled the whole Saturday with diverse attractions. The crowds were rather large on most points of the program, though there were meeting for literally a few people. And a big plus to all those speakers and authors who were absolutely not taken aback by the low attendance and led a very pleasant conversation.
Sunday, as is usually happens on the last day of every festival, was a more lazy day, with smaller attendance and the atmosphere of packing up and leaving back home. It could definitely be seen at lectures, where, by the end of the day, the audience gradually disappeared. It was a pity, because lectures, meetings or workshops were as interesting as on both previous days.
Summing up - Copernicon festival is definitely worth recommending. Its location in the historical center of the beautiful Toruń is simply perfect for fantastic attractions. The merits are also noteworthy, meetings with authors also interesting. Therefore, if you are wondering whether to come here next year, there is only one answer: yes! Copernicon is simply magical!
Other articles:
Newest comments: