Rails, irons, sirens, human voice and random accidents…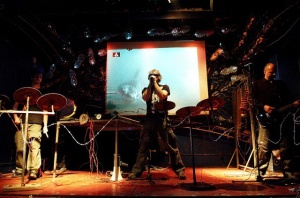 Reads: 7494 times
Last topics on forum:
Rails, irons, sirens, human voice and random accidents…
On this year's Castle Party edition one of the following guest is Akimbo from Sumperk. Their show will be in the Church on Friday. Especially for you we've talked with Alda – leader of the band.
Akimbo was formed at the begining of '90 by three Czech musicians Alda, Hanys and Radi. Their first appearance was in Sumperk, Czech Republic on 24th June 1993. After two years band decided to not to continue their work. 23rd June, after 14 years the band has came back and they are still on the track. From 2009 Akimbo is a organizer and host of the Moravian Industrial Festival (On 2009 was Sumperk Industrial Festival, from 2010 was MIF).
Akimbo's classic industrial music is created with synthetizers, samplers, computers, guitars, rails, springs, irons, sheet metals, sirens, human voice, random accidents etc.
This year you are invited to take part in the Castle Party Festival. How do you feel about this?
Always were curious about Castle Party. So looking forward to seeing it finally even though the line up seems to be a total question mark for us this year.
Could you describe your music to those who never heard Akimbo? What inspires you?
Usually the description of our outputs given by us does not match the actual experience. Lots of inspirations mainly deep from our own lives. For closer definition see www.akimbo.cz
I know:) that for special occasions you include covers of Depeche Mode and Sabrina songs in your set list. Will you play them in Poland?
A marginal part of our opus is to improve certain musical incentives which have come to us in various stages of our lives. Usually it is difficult for the newcomers to absorb them in the right way. So this is the reason they will be skipped this time (probably).
Are you currently working on new songs? Can we expect surprises during your gig in Poland?
At the moment our main concern is our hard work to finish our new album. We will certainly play some tracks from this material at CP.
Since the official Castle Party line up has been published could you indicate a band or performer you would like to see the most?
7JK
How many times did you visit Poland? What did you like here the most?
We have played in Poland several times. We have found many fans who understand our work and support us which makes us very happy and thankful about.
Tell me a few words about the Moravian Industrial Festival, which you organize each year. Will it also take place this year, if so when, where and what bands will play?
Unfortunately MIF did not find enough audience within last 4 years. It therefore has been suspended now and the same as for Akimbo, MIF will wait for reasons to resume.
Other articles:
Newest comments: