NÄO as a revelation of the fourth MIF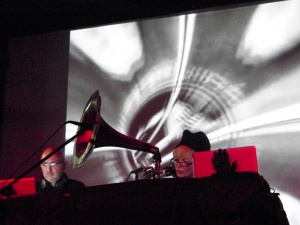 Reads: 78120 times
Artist:
Galleries:
Last topics on forum:
The fourth edition of the event called "Moravski Industrialni Festival" in Ołomuniec is unfortunately over. Two days of perfect, international, industrial fun. Music with Slivovitz and Czech goulash prepared by the guys from Akimbo and multilingual talks till early in the morning.
The first day began quite calmly. Greetings with bread and salt (in this case with goulash and slivovitz), introductions, handshaking, respect – respect and let's start. I can't say much about the beginning because I was busy trying to prove foreign guests that Polish vodka is better than Czech slivovitz. And I did! Guys from
300.000 V. K.
could hardly enter the stage because of my high-proof spirit arguments. But they did and performed absolutely perfect! Just like everybody on that day.
Alda (Akimbo's vocal and the host of the festival) always very meticulously chooses line-up. If you ask him why this one or that one hasn't played here yet he answers that this is too light, this is too heavy and that doesn't fit. And that's it. Always the true industrial is essential with some experimental flavours. This year also there was one special flavour. A great one. But more about it later.
I'm not going to discuss the atmosphere of the event itself because it's not possible. You just have to experience this. The event differs from most of the festivals and it's not just the music that makes it different but people. If you don't know how Czechs are having fun you have to go there. From the very beginning when the organizers welcome you, you feel as if you were born there. Not to mention that after a few glasses of beer everybody speaks one universal language Polish-Czech-Slovak. Just pure delight!
But let's come back to music: day two.
This evening I listened for a moment to
C.3.3.
I was curious what Paul Jamrozy (co-founder of Test Department) is going to present. I was waiting for some sounds which would drill into my body but they didn't come. Paul with the laptop didn't impress me as much as I expected. However, "aunt Matylda" enchanted me. Aunt Matylda – gorgeously moving woman at the side of Paul, she was wearing black weathers, black hat and red lips and impressed greatly. The true name of aunt Matylda is Roz Corrigan and she is the one who saves this duet.
Day two usually belongs to
Akimbo
. The organizers gather their friends who are having fun very energetically. I'm always afraid that Alda (voc.) will harm himself because of the barbed wire around the whole stage. (in 2011 guys performed in small Warsaw Kocioł Club and they brought this wire too!!!) Alda, Hanys and Radim totally lose control during each concert. This time was the same and Alda almost fell off the stage together with this wire. Power!
The absolute discovery of this festival was for me
NÄO
from France. Getting ready for this festival I had been digging in the net checking every single band to know what to expect. They hadn't impress me at all. During the concert it came out that I was mistaken. The recordings in the net don't reflect at all what the three musicians can do playing. Live drums, and big piano and energy so great that before it came to me what is happening I almost lost my breath. After the concert Hanys from Akimbo told me: "You were lucky seeing them here. They have been playing for half a year and in a year time they will be so famous that we can't afford to pay them." I have a strange feeling that he may be right.
This is only a summary of what was happening in Ołomuniec. I really invite everybody for next year edition. Especially for the atmosphere created by
Akimbo
and Czech goulash with vodka... to encourage you I can add that on Saturday, the second day of the festival, all people (musicians and fans) are wandering together in beautiful Olomuniec. These are exceptional moments...
Festival's line-up
300.000 V.K/ Dreihundert Tausend Verschiedene Krawalle, C.3.3., In Slaughter Natives, NÄO, MINAMATA, NAPALMED, EX_TENSION, [HAVEN], FRONTIER GUARDS
and
AKIMBO

Other articles:
Newest comments: