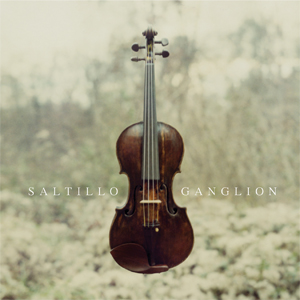 Reads: 2038 times
75%
Galleries:
'Ganglion' is a re-issue of an album from 2005, which although advertised as 'violin trip-hop', does not limit itself with just this one genre, quite contrary actually, the amount of various 'embellishments' leaves little place for boredom.
If you are still not convinced to give Saltillo a chace, listen to the firs track 'A Necessary End'. It sounds exactly how the publisher describes it, i.e. a combination of trip-hop and violin with additional breakbeat rhythms, samples with dialogues from movies (probably not only) and classic vocals. The next track, 'Giving In' is nothing but a confirmation of the above mentioned. The track sounds more like a typical trip-hop tune, a reminiscence of Portishead I dare say, a feeling emphasized by a melancholic atmosphere, slow tempo and female vocals.
'Remember Me' is an interesting one. The pace goes up, an exotic-sounding string instrument (I'm not sure what it is) appears next to the violin and, of course, the mood changes. However, in 'A Simple Test' the tempo is pushed yet again to the point the track sounds almost like a drum'n'bass tune, which does not mean Saltillo discarded the trip-hop basics. Conversation samples are mixed with vocals, and the result is nice indeed.
I'm not going to describe every single track here, as it's not about reading but listening. I will say, however, that even if at first every track is characterised by a different atmosphere, each one of them has an element of melancholy woven into it, which prevents the album from being too diverse and creates a link between the songs. To sum up, 'Ganglion' is a good LP, with a lot going on, which gives it a second chance (re-issue) to be approached not only by the fans of trip-hop, who, by the way, I'm sure will utterly enjoy it.
Tracklist:


01. a necessary end
02. giving in
03. remember me
04. a simple test
05. a hair on the head of john the baptist
06. blood and milk
07. the opening
08. backyard pond
09. grafting
10. praise
11. im on the wrong side
12. 002 fm
Other articles:
Newest comments: