Santa Hates You - Rocket Heart EP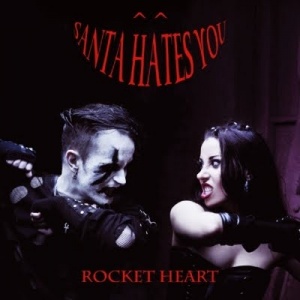 Reads: 3397 times
70%
Artist:
Galleries:
CDs catalogue:
Last topics on forum:
The Santa Claus Day is approaching imminently, hence it is hight time someone reviewed an EP of Santa Hates You entitled "Rocket Heart". I have to admit it is my very first encounter with this project of Peter Spilles of Project Pitchfork. Is this EP worth a try?
Let's start from the beginning. Substantially, the record consists of 8 tracks, 6 of them being the title "Rocket Heart" plus it remixes. Really good ones, I have to say. The title track itself is a piece of solid "juicy, electronic gothic/dance" as the band describes its music. It is catchy and the lyrics "Hey girl, hey boy" may be associated with a certain track by Chemical brotherts, yet in this case the vibe is much more intense. The second remix by Straftanz is rather wonderful. Althouth the subsequent ones are equally good, each distingushes in some specific manner. Apart from these, one can also find The Bonus 1.0 with its characterisitc beginning, suggesting an association with Kraftwerk (yet, it may be only my impression). But the further one goes, the more oriental feeling might be heard in the tracks. The vocal itself is absent and it gives way to the speaking parts; everything being accelarated by heavy beats.
The only piece of music left to be heard is Deutschmaschine, which actually ends the EP. As the title may suggest, it is a German track, with a harsh, "German" rhythm. It seems to me that the song constitutes quite a deserving end of this, frankly speaking, abnormally long EP (38 minutes).
Can I recommend "Rocket Heart"? It is rather a tough question. On one hand, the record is full of really pleasant, dance rhythms, yet on the other hand it lacks something which may have crashed me musically. It appears to me that the EP is a nice chunk of solid, but unfortunaltely not revolutionary way of playing. However, I am almost sure that it will find a couple of fans.
Tracklisting:
01. Rocket Heart
02. Rocket Heart (STRAFTANZ remix)
03. Rocket Heart (AXXL E. remix)
04. Rocket Heart (SKYLA VERTEX remix)
05. The Bonus 1.0
06. Rocket Heart (SOMAN remix)
07. Rocket Heart (REAPER remix)
08. Deutschmaschine
Other articles:
Newest comments: