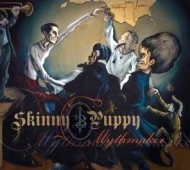 Reads: 7781 times
100%
Artist:
Galleries:
CDs catalogue:
I waited a long time for this CD. I fell in love with Skinny Puppy after hearing Too Dark Park. I started to keep track of their works. Love reached it's peak when I heard The Greater Wrong Of The Right.
We had to spend three years waiting for the next album by the Canadians. Was it worth the wait?
I think that opinions will be divided. A certain group of fans will be delighted. Some people will say that this CD lacks in what we heard on VIVIsectVI, Rabies or Bites. Here we have a clear division into people who like Skinny Puppy "before" and those who like Skinny Puppy "after". I respect all of their works, that's why I never got into any details concerning the fine line between the fans. Everything seems to point at Too Dark Park.
Getting back to Mythmaker. Skinny Puppy amazes once more. Another turn, evolution. We won't hear here anything from The Greater Wrong Of The Right. This CD is clearly calmer. You can't hear guitars which were obviously accented on TGWOTR; what you can hear is the return of the vocal style from previous albums. Is it good? Personally, I had nothing against vocals on TGWOTR. Quite the contrary. Although I heard some accusations against Ogre, saying that he... rapped on that CD. On Mythmaker, you can hear modulated vocals perfectly composed with the overal album's character.
As for the music - as always dark, calm, sometimes creating a nervous atmosphere. It caresses (vexes?) our ears with an orchestra of perfect samples and various sounds. Everything creates a perfect harmony. Sometimes passive (e.g. pedafly), at times very calm (vide JaHer, pastruN) but mostly perfectly balanced. Music on this CD can be clearly taciturn (large parts of haZe) or create an industrial symphony (politikiL, lestiduZ, ugLi).
Another important feature of this album - Not one track too much or too little. Maybe the same rule applies to single sounds as well. Great balance, perfect harmony - with so much chaos in this music! To conclude, once more have Skinny Puppy created a great masterpiece. A masterpiece which will be remembered, which won't be passed indifferently. A masterpiece worth having on your CD shelf.
Tracklist:
1. magnifishit
2. daL
3. haZe
4. pedafly
5. jaHer
6. politikiL
7. lestiduZ
8. pasturN
9. ambiantz
10. ugL
Other articles:
Newest comments: