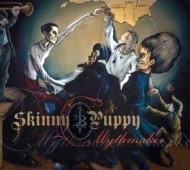 Reads: 7063 times
75%
Artist:
Galleries:
CDs catalogue:
After five years of silence Skinny Pouppy is back with a new album. "Mythmaker" differs substantially from "Rabies". The recent publishing of the Canadian formation is more balanced and carefully prepared.
For the 25th anniversary the band Skinny Puppy released an album which, in fact, reflects the music ways the band had gone. the Canadians are not worried about the fact that their youngest child is running wild in various ways and that its moods are highly changeable. cEvin Key (Kevin
Crompton) and Nivek Ogre (ohGr) (Kevin Ogilvie) as befits decent fathers gave child a surname and worked carefully on its delivery.
"Mythmaker" features quite a number of electronic adornments, samples of the surrounding world and and life full of technology and technological novelties that are ambient at times . The sounds of sigh (female groans) appear as well! "pedafly" is harsh hard electro. Just alike trance-industrial "politikiL". The fans of old Skinny Puppy should be satisfied.
I'm curious about their reaction on the peculiar track that is a link between the two tracks mentioned above. Lyrical ballad "jaHer" is an exotic gem on "Mythmaker". Such guitars are quite an antic! Absolutely brilliant psychedelic-ambient ballad. You may find more cosmos in a slow industrial "lestiduZ".
"Mythmaker" is very much of ambient atmosphere facilely to industrial trend. While performed by Skinny Puppy it sounds specifically. The penultimate track, rich in imitation of the sounds of surroundings makes the music on "Mythmaker" closer to ambient defined by the father of the genre and its first artist - Brian Eno.
Tracklista:
01. magnifishit
02. daL
03. haZe
04. pedafly
05. jaHer
06. politikiL
07. lestiduZ
08. pasturN
09. ambiantz
10. ugLi
Other articles:
Newest comments: