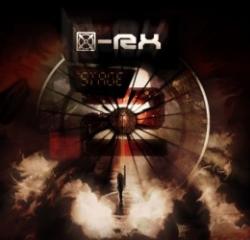 Reads: 4290 times
90%
Artist:
Galleries:
CDs catalogue:
Last topics on forum:
The first time when I've come across with [x]-Rx project was last year and I've become his true fan at once since then. The debut album "Unmöglich Errenged" got me interested by the lack of musical compromise and clear technical sound. It collected very energetic material, almost deliberately made up to be danceble. No surprise that soon it was appreciated by many and became grinding success at the dancefloors. For the next Pascal Beniesch's album we had to wait for two years, so I was a little bit anxious when I've turn on 'Stage 2' to find out if it's up to the mark with the previous one.
We've got 15 tracks on the CD, 2 of which are short 'Skits'. The album begins with the theme song where we can easily hear that characteristic fast pulse-beat typical for this artist. After a couple of sounds the whole thing seems really promising. Exactly 51 minutes later I know all. The [x]-Rx's latest record is very good and faithful fans shouldn't be disappointed. Comparing to 'Unmöglich Errenged' there are no revolutionary changes here. The compositions have their own alike style that starts to be recognizable and typical. The album is energetic, dynamic and danceable, but to me it's missing something. The material is technically professional and there's nothing to reproach it for, nevertheless, I would expect some more imaginativeness and experimentation. Particular pieces do not vary among the whole and as one goes on through the listening, they become even humdrum. After some time even my neighbour, not having any refined musical taste, automatically tapped at the wall the rhythm prevailing in most songs...Also the two skits that were mentioned before are not really to my liking. Though the whole 'Stage 2' can be described as very pleasant and musically coherent, I personally find these two interludes redundant.
The album will surely win DJs recognition as the recorded material gives a lot of means to experiment with it. Some of the songs may fill spaces of dance clubs alongside the well known 'Disco Distortion' or 'Sexualkiste der Hoelle'. Maybe one can grumble and sniff at the new CD pointing some details but after all it is a very good material that is rather on the mark with 'Unmöglich Errenged'.
Tracklist:
01. Stage 2
02. Industrial rave revolution
03. Tod skit
04. Tanz schlampe
05. Bleeding ears
06. Alle menschen
07. Wodka skit
08. End inferno
09. Digital terror
10. Homofürst
11. Headhunter
12. Insane
13. Assholes
14. Stage cleared
15. Fickt euch alle
Other articles:
Newest comments: