Clan of Xymox, Deathcamp Project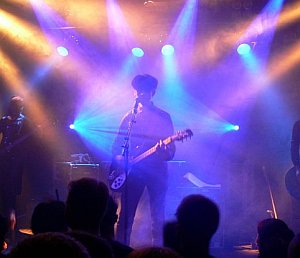 Reads: 15952 times
Artist:
Galleries:
Last topics on forum:
The news that Clan of Xymox was going to play on the 7th birthday of Nostromo in the nearby city Goerlitz electrified many Polish fans who promised to come to the concert. Indeed, when me and my friends finally got to the club we could hear fragments of the Polish language and see many faces that looked somewhat familiar :)

Polish formation Deathcamp Project started the party. Gentlemen were doing their best and I must say that the audience gathered by the scene reacted in a various ways, though quite positively; some people were dancing, some left; most of them, however, was focused on the band's music coming from the scene. The concert, in my opinion, was a successful one, both musically and visually and the applause the band got after the show was fully deserved.

At about midnight one could hear the arising wave of applause, calls and enthusiastic screams among the audience: it was the star of the evening – Clan of Xymox – coming onto the stage. The reception of the band was great : their performance included both new songs of the EP "Weak in my knees" and the old hits like "Michelle", "A Day", "This World" or "No Tomorrow". Outstanding music, wonderful sounds, perfect lights and the exceptional atmosphere combined together will make us remember the concert for long [at least the Polish part of the audience, who was dancing and singing right beside the stage will definitely do :) COX gave two encores and finally, farewelled with long bravos, went to the backstage to return after about half an hour to meet fans. As we managed to find out the band is happy to come to Poland in September and promises a lot of good music.

After party, as usually in Nostromo, took place on 2 floors: one offered electro, EBM and industrial music, the other more guitar sounds. Some people went to dance, the others talked to the band, some went home. We stayed in the club until 6 am and I must say that it was a very good party. Team of Nostromo club organized unforgettable birthday which will be a helpful memory while we will be waiting for the band to come to Poland.
The text was published by permission of yesternight.pl

www.clanofxymox.com
www.deathcampproject.com
www.nostromo-gr.de
Other articles:
Newest comments: