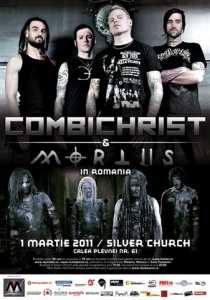 Reads: 4328 times
Artist:
Galleries:
Last topics on forum:
After a long waiting, the spring came and how can we celebrate this? One way is to go walking in the city parks or better to enjoy a special night with Combichrist & Mortiis, courtesy of Viva Music. Starting with 7.00 p.m., the club Silver Church opened its doors and let the fans to enter in a magic night. After 1 hour of accommodation (drink some beers, talking with friends), the lights disappeared and the dark ambient was started:
Mortiis
electrified the scene with their music and fans went crazy. Song by song, Mortiis prooved that his music has high standards and the electro rhythm is a mark which will be put on his next albums.
Mortiis's playlist:
The Ugly Truth
Way too Wicked
Gibber
Doppleganger
Closer to the End
Perfectly Defect
Decadent & Desperate
Scalding the Burnt
Demons Are Back
After a short break the headliners came to conquer the Romanian audience and to take the fans in a journey to an electro-industrial world. We had the music, we had the show, we had the touching speech, we had
Combichrist
. If you are at a Combichrist's show you understand the feeling of their music, actions and all it seems like a spell put on you and you don't want to wake up.
Combichrist's playlist:
Just Like Me
Follow the Trail of Blood
Today I Woke to the Rain of Blood
Electrohead
Throat Full of Glass
Get Your Body Beat
Deathbed
Slave to Machine
Fuckmachine
Blut Royale
They
Never Surrender
Encore 1:
Scarred
Fuck This Shit
Encore 2:
What the Fuck Is Wrong With You?
Dreaming to the next shows, our steps followed the way to home, but the music of Combichrist & Mortiis was still in our minds. Thank you guys for a such a special night!
Other articles:
Newest comments: