Controlled Collapse + Deathcamp Project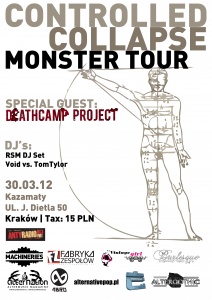 Reads: 6670 times
Artist:
Galleries:
Last topics on forum:
The aura of that day resembled the one from gothic novel or at least the one from detective story set in 19th century London. Gloomy, wet streets, fuzzy lights and some passersby from time to time, moving quickly through the city to reach their destination before another cloudburst. On that day extremely interesting event took place in Cracow.
On that day, meaning 30th March, as a part of Monster Tour,
Controlled Collapse
threw a concert in Kazamaty Club in Cracow along with
Deathcamp Project
promoting their latest album "Paintings". Kazamaty is a place shrouded in darkness and characterised by quite gloomy and prison-like ambience. It is located in Dietl Street 50 and it is a place where dark part of Cracow's community gathers. Both bands gave about an hour long concerts and their music fitted perfectly into the place and above mentioned aura. Allowing my imagination run wild I can say that
Deathcamp Project's
music creeping on the walls entangled the gathered people, capturing them, while every single tone of
Controlled Collapse
music reached the deepest part of the listeners, grabbing their souls by sharp claws.
The concert was supposed to start at 9 pm but it was postponed until 10 pm because of the audience's request concerning football match taking place at the same time. So reaching my destination I've found out that nothing special is happening there and hardly anyone is there. Few people were talking and drinking beer and some of them were indulged in watching "The Lion King" projected in the bar-room.
Sometime around 10 pm it was possible to see the musicians from
Deathcamp Project
putting up a huge banner themselves. After a dozen or so minutes of struggle almost everything was ready. Already very first sounds of the guitar attracted the gathered crowd into the room where the stage is situated. Because of relatively small size of the room and quite a lot of people there it would not be an exaggeration if I say that we were packed like sardines. It was hard to see anything or to move in any direction unless the proper place wasn't found early enough. Some people even tried to move into the rhythm but they gave up this idea quickly. Also the musicians themselves seemed to feel the lack of elbow room on the small stage. However, ignoring slight technical issues, it didn't affect the quality of the performance at all.
Deathcamp Project
, following Void's words, giving the first concert in Cracow since 2008, seemed to feel very good. So, among the others we could listen to such songs as "Cold the same", "Too late" or the title track from the album "Paintings" performed live only for the second time. Audience reception – extremely enthusiastic, it could not go without female fans leaning out the barrier of course. The band had no choice but to play two more songs. The musicians left the stage literally with the last sounds of music.
Then the time for
Controlled Collapse
came. And again putting up the banner, warming up, taming the dominant drums, checking, perversity of inanimate objects because during several first songs there were some problems with audio monitoring and finally the concert was thrown with full power. It was possible to feel greater easiness of musicians on the stage as well as among the audience, it wasn't that much crowded anymore, so some people let themselves move more energetically. Energetically and powerfully sounded all the songs performed. What deserves to be mentioned at this point is vocalist's great contact with the audience. He seemed to sing for each and every single person present there and for each and every single person he seemed to talk to "I'm nothing – without you".
Setlist:

int(r)o
choice
halloween
insane asylum
liar
monster
scream and shout
selfless
the same
things come to pass
trust
venture
without me
liar (encore)
Summing up, the quality of music and performing made some small technical difficulties unnoticeable, so that the concert can be regarded as successful. I wish we had more such events in the future.
Other articles:
Newest comments: