Controlled Collapse + Deathcamp Project + Synchropath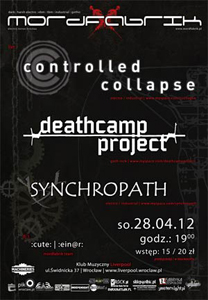 Reads: 6052 times
Artist:
Galleries:
Last topics on forum:
Nearly a month, April 28, after the amazing
Deathcamp Project
and
Controlled Collapse
show in Kraków the time has came to take over Wrocław. This time line-up was enriched by a local band –
Synchropath
– playing EBM. The party was held in Liverpool club, known in the city for organizing famous artists' concerts, also from dark independent scene.
As opposed to Kraków, the atmosphere wasn't there for dark events – sun was shining, pleasant wind was blowing, birds were singing. No signs on earth or sky foreshadowed the coming of the darkness.
Club opening as well as party launching was planned on 7pm, however, to my great disappointment it was a bit delayed. Before the gates were opened the musicians were lurking around, ready to take action.
At first the concerts were supposed to start at 8pm but since new people were still arriving it was postponed a bit. The scene was ready, banners of all bands were hanging and instruments were set.
First in the line was
Synchropath
. Qbz was in a good mood, full of energy. It's been some time since I saw him in such a good shape. Deep voice and a powerful scream later on filled the sacrum of his moment. Einar and the other musicians looked like in a trance, swaying rhythmically and showing their hidden energy when more intense music was played. This kind of shows are unforgettable!
After
Synchropath
concert the line-up had
Deathcamp Project
written, for which most of the lost souls were waiting. Unfortunately, due to some small technical problems and sound settings the concert was delayed for about 30 minutes. In the meantime guests could listen to some moody songs. After setting up the stage the musicians went to the backstage. When they came back onstage they were cheered a lot. Most of
DP
's setlist was new material available on the release "Paintings", nice play of words by the way (=pain things). Of course already known music sounded as well, like "Another" or "Rule and Control". Guys were in a good shape, however, sometimes the look on their faces was filled with disgust. The set took about an hour, after the last song the audience shouted for encore but unfortunately were left without it. In the background during the concert Królik (known from
Controlled Collapse
, the next act) was raging about. I admire how much energy he puts into his shows!
The time for another technical break came, time for a smoke and further action.
Controlled Collapse
made the day for the audience at Liverpool. Liven up beforehand by
Deathcamp Project
people lost themselves in dancing along more powerful sounds of
CC
. Speaking of which, it's worth noticing the huge influence of Andy LaPlegua known from former Icon of
Coil
or
Combichrist
. Królik, the singer of
Controlled Collapse
, is definitely modeling his stage behavior on mr Olsen. Anyway, as people say in the milieu – like country like
Combichrist
. But don't get me wrong, because musicians from
Controlled Collapse
are doing a really great job that can move the crowd and bring an unforgettable ambiance. During the concert one could notice Void and Betrayal from
DP
in the audience and the singer was often pointing at them from the stage. The show lasted about an hour, just like the previous concerts.
The gigs ended at about 1am and a massive but short afterparty begun, lead by Einar (known from
Moonlight
as well) and
Cute
. The guys also did a great job with their sets. All the guests happily joined the party themed
Mordfabrik
. Liverpool closed down a bit before 4am and many people stayed till the end and for sure weren't left disappointed.
I'm extremely glad I could take part in this event. Personally I would like to thank all the musicians and
Mordfabrik
crew for a very well organized party!
Other articles:
Newest comments: