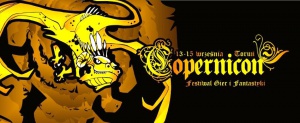 Reads: 3324 times
Galleries:
Copernicon 2013

Before convent
After the previous
Copernicon
, which was an overwhelming pride of Toruń, there was no doubt, the next will be prepared with even greater momentum. Fanpage long before the beginning of the event lived by competitions and from day to day there were more and more likes. Advertising in the local media and posters with new graphics definitely encouraged. Just like a year ago before the convent was held ZombieWalk. This year the route was slightly changed and gathered a lot of dead ones. The novelty was the Alternative Fashion Fair, an element attracting more females, but with the variety of stands and exhibitors for men also could be found something.
A headquarter
As it was in last year the main building was climatic Collegium Maius, the second one standing next to the Collegium Minus, not far from Artus Manor. A definite plus when you do not want to wear jacket running from lecture to lecture. I did not reach the historical-fantasy village, but for rain reasons it came itself and spread out on the grass next to the building.
The first impression
Accreditation run smoothly. Another change, ability to receive it in both buildings, thanks to that there were no long queues to notice. At the entrance we were given a handbook + simplified scheme with hours and a map, making it much easier to plan. For the hungry ones there were prepared discounts to many restaurants in Toruń and at the information desk you could order the convention's pizza. Not to feel too good the weather effectively deterred from choosing to travel further. Fortunately McDonald's and Stary Anioł were close enough, to eat and quench the first at the break between lectures. Just on Friday it was known, it would be able to exceed last year's number of participants. Also increased the amount of small newcomers, due to a special rooms with games and candy-floss. The first overwhelming impression was it is going to be more interesting and more efficiently.
Rooms and lectures
I did not doubt, there would be invited interesting personalities. Very cool, they were totally different, with lots of typical products of the Internet.
Copernicon
was visited, in random order by: Nikodem Cabała, Ekipa Bloga Na Plasterki, Katarzyna Czajka (Zwierz Popkulturalny), Jakub Ćwiek, Agnieszka Hałas, Marek S. Huberath, Jacek Inglot, Aneta Jadowska, Daniel Lelek, Stanislaw Mąderek, Anita Kloss, Ilona Myszkowska, Krzysztof Piskorski, Tadeusz Raczkiewicz, Witold Vargas, Andrzej Zimniak. My only problem was that there happened so much, that sometimes you had to choose between a number of great attractions. Especially good was the block near the convent. Fiery fire show gathered a lot of random people and illuminated beautifully the old market place of Toruń. Very cool, the convention did not focus only in a science-fantasy. I met a lot of people associated with the historical impersonating. I tapped the knights in armor, I learned how to make abortion with herbs and what to do when I do not have a light to smoke, life itself! Who wanted could learn how to shoot with a whip, take part in workshops of safe fire show and fight with soft swords. I was delighted by lecture of Agnieszka Schulz, about the psychopaths. The method of conversation, great contact with the audience, backed by an extensive knowledge caused, that a great room was filled. During breaks I spent a lot of time playing the board games. Also Ilona Myszkowska spent there time too with her authorial game. Falling in and out of the meetings, I experienced being convinced to pastafarianism and encouraged to become addicted to games on the playstation. I also met a lot of neatly dressed people, in general it can be said that dreamers gained in number. GameRooms were constantly filled with players, but it was not so smooth because I missed an important element. Table football, which gained a considerable popularity last year. An important part of the convention was fantastic, and what is most important a free lottery on the stand of Rebel.pl. Games were not spared, and the number of people who came probably surprised even the organizers. Unfortunately, despite the wealth I did not win anything. For me personally the most interesting and closest to my heart lectures had Witold Vargas. One about the ghosts, the second about demons in Polish/Slavic consciousness and culture. Both were led with a dose of humor, but backed by dozens of research and hours in the library. Participants only confirmed the relevance of the subject, just by purchasing the entire supply of Bestiariusz Słowiański on the first day, co-authored by Mr. Vargas. On the Saturday morning, I came to a part of a tour organized by J. Ćwiek Rock&Read. Again with no surprise, half of the auditorium of fans despite the early hour. Between lectures also this year I met a lot of great and having a lot to say people. You cannot complain on the participants because they could have been seen from morning to evening.
Stands
I cannot tell you how it is at other conventions, but I definitely missed something to eat on the spot. I expect that it is associated with other licenses, etc. Unfortunately I cannot avoid comparisons, there were a buffet and a tea room last year. You could meet various exhibitors, but dominated women's jewelry, clothes and all sorts of goodies under the sign of Japan. The most interesting and new were Asian sweets. Fascinated by the diversity of taste and appearance I even bought a pack of strange berry sticks and I am delighted. In addition to the local Centrum Gier Feniks board games, at a competitive price had Rebel.pl.
Summary
Gamers helped to get to the proper place not once, I had the impression that there were more of them than last year. As it could be seen in the booklet, organizers had gathered a lot of major sponsors. Hope there would be more of them next year and
Copernicon
will grow in strength. Lectures or more interesting, it depends on your taste, I feel a slight deficiency. If I could suggest something to the organizers, it is to organize some good rock/metal concert. End of comments! There is a progress, there are new opportunities, fans are coming through the doors and windows. Organization truly at top level. Superbly equipped rooms, none of which missed a computer, projector and speakers. Number of dreamers was particularly evident in McDonald's, which confirms number of great people. Well, see you next year;).
Other articles:
Newest comments: