I Toruńska Niedziela Fantastyczna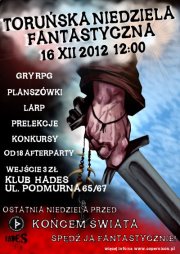 Reads: 2283 times
Galleries:
While waiting for the next Copernicon members of the Thorn association started an initiative of Toruń Fantasy Sundays. The event was planned for December 16 in one of the most climatic cellar clubs i.e. Hades. Symbolic admission of 3zł ensured a lot of attractions in several areas of the club.
Main part started at 12:00 and included a lot of lectures, RPG, LARP, and board games. The shy ones could always hide in a corner and simply chat, sipping beer. There was a very familial atmosphere, most of the people in a more or less active way participated in Copernicon. About 50 people came, what, as for the first, poorly advertised edition, was a success.
Personally, I liked the best that, being completely unfamiliar with LARP, I could listen to a few lectures on it, discuss, participate in small feelings and emotions expressing workshops, and then take part in a LARP. However, before LARP, I chickened out and went to play RPG, Lady Blackbird;)
Board games lovers had a whole room where they could play throughout the entire event. All scheduled lectures took place and, as it was announced, there was something for everyone. At 13:00 tournaments in Uga Buga took place and at about 16:00 it was Neuroshima Hex time.
After 18:00 everyone sat down together and continued topics about fantasy, accompanied by irreplaceable Hades-ish drinks.
With a loud heartbeat I look forward to another TNF, and Copernicon is getting closer and closer.
Other articles:
Newest comments: