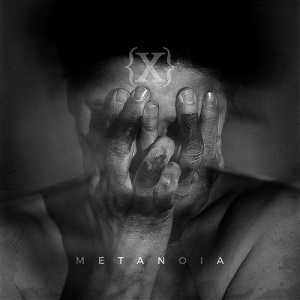 Reads: 4224 times
99%
Artist:
Galleries:
CDs catalogue:
Last topics on forum:
Metanoia
is the sixth studio album of
IAMX
, the solo project of
Chris Corner
, The esthetics of harsh electronics it resembles the debut album
Kiss&Swallow
, however, it's much darker and more mature than its predecessor. Corner also left behind natural sounds of acoustic instruments, again experimenting with heavy synthetic ones. So, to make long story short – in what way the latest IAMX creation surprises us?
No Maker Made Me
opens the album with stubborn, low bass, not systematised at the beginning. The atmosphere changes just before female choir enters and introduces much more powerful and very low rhythm. The moment Corner's voice enters – apparently out of time – everything seems to be perfectly fitted. What focuses attention is a contrast between harsh and heavy electronics and much higher vocal, still with female choirs. Most of the artists try to fill this space with some additional melody, but here it would be distracting. Of course there is a voice there, but not always rhythmsized, often taking shape of incoordinated electronic points or sound stains, placed one upon the other.
Happiness
, promoted as the first single, refers to the lightness of the single from the previous album, Unified Field with the same title. What makes it different is deeper and more conscious electronics and meaning – much more emotional, creating tension by means of giving hope and suddenly taking it away. Nice, catchy and almost radio-mainstream track with good and true lyrics. What is worth attention is that it's the only track in which, most probably, acoustic guitar was used. While creating Metanoia, Corner left behind the severe acoustic lyricism of Unified Field and previous creative output, coming back to and enriching ideas gathered already on Kiss&Swallow.
North Star
is amazing and monumental track – and surprising choice as it's only third track on the album. It may be even claimed that it's a perfect composition and constitutes a quintessence not only of Metanoia but also the whole output of Chris Corner. It starts with violent almost agrressive, fast beat and melodic elements with some harsh electronics. The energy of the track doesn't let you rest! If we count all the layers in the track's culmination, we'll find out there are seven of them (which proves the music's quality). If we add amazing vocal range and obviously reaching the heart lyrics about desperate need to find a place in the world and impossible home return, we'll get a receipt for an ideal track.
Say Hallo Melancholia
continues the tradition of classic IAMX's waltzes which make the concert audience dance. Earlier we had President or The Stupid, The Proud, now we've got this one – according to expectations with beautiful, initially calm vocal later changing into drama with electronic passages bringing to mind Daft Punk in its early period.
The Background Noise
starts with most beautiful, clear voice… the soloist of boys' choir and the same choir in the background. Good job Corner – boys' voices are considered to be the clearest and they add pure innocence to the track and matching the music perfectly. The composition tells the story of typical, proud inhabitant… actually of any country in the world (although the influence of American Dream is pretty obvious). The wife, kids, garden, charity events, weapon as a safety guarantee – and this annoying sound somewhere in the head not allowing to relax, this feeling that all of it is nothing but illusion…What is happening? Everything is ok, right? Deep, monotonous bases present in many tracks make the feeling of anxiety noticeable.
Insomnia
starts with regular rhythym resembling stubborn, monotonous clock. The impression is created by rhythical drums and pulsating piano. Above all of that there is Corner's voice full of helpless despair, singing about losing control over life and hope for the future, induulging into sleepless delirium. The effect is made stronger by harsh electronic parts. And classic move – the more melodic layers the higher Corner sings to stops suddenly making a place for echo. All stops apart from clock ticking...
Look Outside
is also a part of traditionally placing a calmer track among energetic and somehow dramatic compositions. It resembles a bit nostalgy of a lonely man who sits by the window and keeps staring at the grey world knowing subconsciously that this sometimes wild and chaotic world has much more to offer. All these feelings are served in the frame of static sounds stains and delicate beat and Corner's vocal – and it's not surprising – never disappoints, it slowly builds tension and emotional depth. It's also a kind of a tribute for Los Angeles, where currently the artist lives.
Oh Cruel Darkness Embrace Me
starts with rhthmical, harsh electronics with some apparently accidental parts of clear sound. It's monotonous, low, deep. Above all of these there's somehow aggressive Corner's voice demanding salvation coming from fuc*ing darkness surrounding the world for which there is no hope. Within only three minutes he is able to create a picture of man who is powerful in his powerlessness toward the evil in which he is forced to be born and stay simultaneously ruthlessly assesing contemorary reality and societies.
Aphrodisiac
is an amazing composition for many reasons. Although it's again predictable deep and pretty fast electronics, the Corner's voice is unimaginable! Listening for the first time you have the impression that the vocal was created by some digital specialists knowing how wide is vocal range of the vocalist. But of course it's not like this and Corner once again surprises with his talent. Aphrodisiac was successfully performed in Warsaw (30th November, Stodoła Club). Not many female vocalists can reach that high note! Amazing melodic line in one thing but created by multiple layers and ways of expressions energy is absolutely impossible to imitate and so characteristic for IAMX. Soon after North Star it's undoubtedly the best track on Metanoia.
Surrender
is another psychodelic waltz on the album, even heavier and much more spine-tingling than Say Hello Melancholia. When you think that there can't be anything more energetic than North Satr and Aphrodisiac, here comes Surrender being an absolute highlight of everything that is included in the album. Who is not tired of constant falling and raising, having enough of everything, of carrying heavy baggage which is never going to be any smaller? Sometimes we just want to scream. Corner does it for us and we scream with him.
It's already a kind of a tradition for IAMX to include ballads which are absolutely beautiful in their simplicity of music and depth of lyrics. They serve to calm down the emotional storm which takes place throughout the whole album. Amazingly romantic but also passionate Wildest Wind is one of the best of all "concluding ballads" Maybe this impression results from the contrast between emotional shredding of the whole album and subtle Wildest Wind. In this track you can hear that the hero fighting with the world still has some light which he appreciates and takes care of along with someone close to him. It is also characteristic for Corner – always about love, never directly. Despite the appearance of the word "love" it is not intrusive and, what's important, always honest. Corner always presented love as a means of manipulation and the source of pain. It's probably the first time when he gives it a chance in much more positive context.
The concerts devoted to promotion of
Metanoia
took place in Poland in March in Gdańsk and Poznań. During the 2015/2016 tournée he is accompanied by
Janine Gezang
and specially invited
Sammi Doll
and
Jon Siren
.
Tracklist:
1. No Maker Made Me
2. Happiness
3. North Star
4. Say Hello Melancholia
5. The Background Noise
6. Insomnia
7. Look Outside
8. Oh Cruel Darkness Embrace Me
9. Aphrodisiac
10. Surrender
11. Wildest Wind
Other articles:
Newest comments: