In Strict Confidence - La Parade Monstrueuse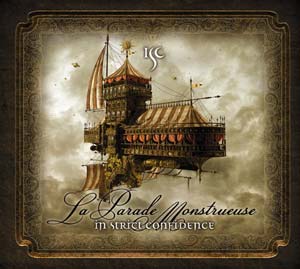 Reads: 4049 times
85%
Artist:
Galleries:
CDs catalogue:
Last topics on forum:
La Parade Monstrueuse is a cherry on the cake in In Strict Confidence's artwork. After years of searching for the right way, having released many differential, leaving us with the feel of lacking something, the band has finally created a very coherent, deliberate material. We had to wait three years for the new recording, but if their next work is equally well-made, it's worth to wait even longer.
After the first sounds of the opening track, My Despair, I could already sigh with relief, I knew La Parade Monstrueuse will not be disappointing. At first, a danceable, very incentive intro, then comes a tangy Silver Bullets, in which influence of the new guitar player, HayDee Sparks, is well noticeable. A ballade One Drop leaves us anxious, it is a look back towards the previous records, well, in some moments the instrumental parts are slightly unnecessarily prolonged. Contrarily, Set Me Free is definitely worth attention. Especially a nice combination of harsh male vocal of Dennis with a sensual female one. And an extra plus for making two language versions of the song, English and German. A strong rhythmic This Is All works well as a counterbalance among more melodic compositions. Ewige Nacht is a monumental construction, not being pushy though, the emotions are perfectly measured. Another song, Snow White, brings in an alluring world of fantasy, psychedelic lyrics, Dennis tells us a fine story, yet the electroindustrial melody line is simple. I Surrender seems to be placed here a bit by force, however some 'Eastern samples' make it interestingly ornamented. The only track that might appear to be disappointing is Schwarzes Licht, which shows that even when Nina usually goes well singing in a duo, in this song her solo voice becomes annoying, and it makes the whole composition expressionless. Golden Gate is the last piece, it recaps the album and closes it very appropriately.
Comparing to the previous albums, the new one is definitely more melodic, I venture to say, danceable. Still, severe vocals of Dennis Ostermann keeps the amount roughness in its place. In Strict Confidence is clearly experimenting, looking for new sounds, hanging about borders of daub at times. La Parade Monstrueuse is a well-considered record, coherent, and first and foremost - mature. You May willingly return to this album and rediscover it with each listening. Giving it a mark of 1/10 rating scale, a strong 8 would be perfect.
The album Has been released In two different versions: a standard CD and limited edition with an extra CD containing remixes by i.a. ASP, X – Fusion, Inner Senses.
Tracklisting:

01. La parade monstrueuse (Intro)
02. My Despair
03. Silver Bullets
04. One drop
05. Set me free
06. This is all
07. Ewige Nacht
08. SnowWhite
09. I surrender
10. Schwarzes Licht
11. Golden Gate

Limited Edition:

Tracklisting:

01. Am Abgrund
02. Set me free (ASP Remix)
03. I surrender (Extended Version)
04. My Despair (Whisper Version)
05. Silver Bullets (X-Fusion Remix)
06. Set me free (Rhys Fulber Remix)
07. Von hier bis zur Unendlichkeit
08. I´m a god (Extended Version)
09. Feeling (Inner Senses)
10. I Surrender (Controlled Fusion)
Bonus:

- My Despair (Videoclip)
- Ewige Nacht (Videoclip)
Other articles:
Newest comments: