Interview with In Strict Confidence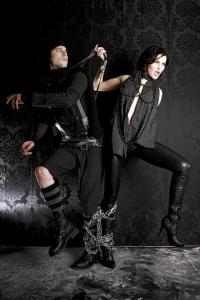 Reads: 6571 times
Artist:
Galleries:
CDs catalogue:
Last topics on forum:
The last full-time records has been a while ago. After this long silence, EP "My Despair" and the consecutive video break through as first vital sign of In Strict Confidence. In the following interview by Astrid you can read about the news Dennis had to announce about the EP, the forthcoming album and more...Hi Dennis, we haven't heard from you for three years. The last album has been released in 2006. What did you do in this long break?Dennis:
(laughs) Good question. Until the new album will come out, four years will have passed. First of all we have made music, but why did it take us four years? We asked this question to ourselves, too. On one hand, due to the fact that we have produce more songs, I think about 20 tracks for the album. It has been more than for all the previous albums. That means, that we have written material for singles and maybe even for the album after the next. We want to omit that it will take four years again!
Do you already know when the new album will be released?
Dennis:
Rough guess will be March 2010. We have just released the EP "My Despair" and are still thinking about a second album as precursor for the album.
Is there a name of the album you can disclose?Dennis:
It's still the working title, but most like the one to be used for the album: "La Parade Monstrueuse" We got inspired by the artwork of the album that reflects a dark and weird circus or cabaret world. The French title simply fits perfectly.
Your new EP "My Despair" just hit the street on November 20. Does the name of work express your despair of the long abstince from the music scene?Dennis:
(laughs) No. Just before an album release you do not feel any despair. Of course there have been moments when you realize that you have not nearly finished anything though.. Then you just need to keep it going against.
For this release you have chosen a modern way of promotion. You have released a video on MySpace. Do you reckon such media more and more important for you?Dennis:
Yes. We have ignored it for a too long time. We did not release, how important such social communities are for many people. Now we present the band everywhere and start to like it, get around and think, that people appreciate it. Esp. with MySpace I think it is very cool to get direct feedback and you can see the face of the fans, something that had been quite impossible some years ago.
Your video has been censored on MySpace. What was the reason for that?
Dennis:
MySpace is based on American Law. American society does not accept nudity, at least it is the case with MySpace. Therefor the breast of the woman in the video has been diffused with light. Most of the people do not even notice it. We wanted to do it a bit more decent, to avoid a black bar – so we solved it with graphic means. I reckon it is the same problem with YouTube, but at least they tolerate it. I think if we packed the video with scene of violence, we haven't got any trouble in America (laughing). Our fans do not have a problem with it, but the old guys financing everything do... so i can understand the old men, since we do not want to see them nacked, too, haha..
What feedback did you receive on the video?Dennis:
They have been all positive, but of course there is always strong bias in such feedback, as there will be a vast majority of positive comments. Esp. on MySpace you can notice that effect, as people are not really anonymous there. In Communities or Forums will be more controversial or destructive commentaries, but you need to cope with that then.
I want to mention two names now and would like to ask you to let us know that comes to your mind spontaneously. First of all: HayDee Sparks...
Dennis:
HayDee ist our "new" guitarist. She has been with us for two years now. I have searched a very long time, indeed. I always wanted to have a girl doing the guitars as it appears more exotic. Playing guitars in my opinions is clearly dominated by men. I have found HayDee due to a chain of strange coincidence and we have been quite happy with her ever since. At the beginning she was a bit afraid that she will only serve as stage decoration, but she can play the guitar really...(laughing)
The second name is: Nina de Lianin...Dennis:
She is the new second female voice. It has nothing to do with Antje wanting to quit or be dismissed. I simply wanted to have a second female voice on the album "Holy". HayDee introduced me to Nina, as they have lived in Berlin together. Nina comes from Serbia and gathered a lot of great experience in the music business. She has performed more than 1000 shows though he is just 20. Basically Nina has far to much experience and is "overqualified" for us (laugh). But now we are complete. Being a band of six it becomes quite difficult to get all things sorted. Despite of that, for the first time I got the strong feeling that all members are in the perfect place.
Lets go back to "My Despair" for a while. The song sounds more pop than previous releases. In some reviews the song has been classified to be "dark popmusic", too. Do you see any musical change in comparison to "Exile Paradise"?Dennis:
Not in comparison to "Exile Paradise". I reckoned it to be very pop-like, too, if we do not compare it with the contemporary radio-pop stuff. In comparison to more earlier works, there is a lightness in it. But this song is not a blueprint of the forthcoming album. There will be more tracks of an unusual "hard" style.
I have read in an old interview, that you have worked for the Bodystyler Magazine years ago. Now the magazine started again, are you also participating in it?Dennis:
No. I am friends with the editor, but i do not work for the magazine anymore.
Well, but in the begin of next year, there will be a nice comic title with you, won't it?
Dennis:
I hope so. The magazine really sticks out, so one just has to love it.
Thanks, Dennis, for the cool update on the new release "MyDespair" and the preview on the forthcoming album. I wish you much success with the single and of course for the album, also. Have a nice end of the year and take care!Dennis:
Many thanks and take care!
Other articles:
Newest comments: