In Strict Confidence - Silver Bullets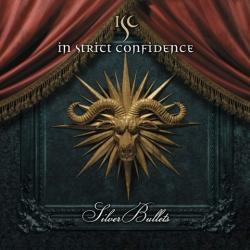 Reads: 3582 times
85%
Artist:
Galleries:
CDs catalogue:
Last topics on forum:
Writing about music is like dancing about architecture. In case of In Strict Confidence it is especially difficult, but still not impracticable. Their latest album entitled "Silver Bullets" is already the second EP, it contains four basic compositions and remixes prepared by such projects as X-Fusion or Controlled Fusion. After several listenings the album Has left me with ambivalent impressions – from one point of view it's special, strong voice of Dennis Ostermann combined with heavy guitars and light electronics, make the incredible whole, that can enchant and is a kind of motor which provokes action, reaching toward one's future, Chile from the other point I feel insatiability… I've put my attention to In Strict Confidence in 2001, when I heard the song "Zauberschloss". Until now I claim that it's their greatest work. "Silver Bullets" with it's care about details is a very good record, but I don't feel satisfied because I know that Ostermann & the Rest of the team can do a lot more.
Tracklist:
1 Silver Bullets (Single Version)
2 Rain (Extended Version)
3 Silver Bullets (X-FUSION Remix)
4 Silver Bullets (CONTROLLED FUSION Remix)
5 No Refuge in the Night
6 Silver Bullets (Clubmix)
7 Why Did I Lose My Faith?
8 Silver Bullets (Extended Version)
Other articles:
Newest comments: