Lord of the Lost / Make Love, Make War Tour 2015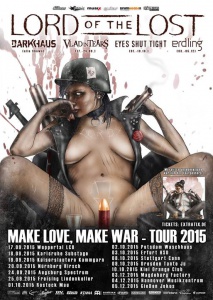 Reads: 2280 times
Artist:
Galleries:
If someone were to plan his outfit for the
Lord of the Lost
performance basing only on the atmospheric DVD's they publish, one would probably feel a little bit out of place at the concert wearing suit and patent leather shoes.
The gentlemen from Hamburg are quite renowned for their skill in switching their musical incarnations – after the emotional acoustic April tour there comes the time for heavy metal storm.
The tour was announced by the "Full Metal Whore" EP that's moved the sound balance from 'rock' to 'metal' (is any of band members going to throw heavy things at me if I call it goth-metal? ;)), and thus has somewhat prepared the fans for upcoming concerts.
They were supposed to be heavier, louder, more brutal in a way.
And they were, even with the riffs(?) played by the frontman on a beautiful cello. We've got remarkably less calm songs and lots and lots more of heavy threshing. The tempo of the concerts has been really well maintained, and I've learnt to appreciate that ever since I went to the concert of a band where the singer had to say something, anything at all after every single song.
There were no unnecessary pauses, sometimes the passages from one song to another were so smooth, that all there was to do, if anything at all, was switching the direction of heads rocking to the rhythm. All in all it was very tasty, spiced with obligatory dash of good humour and dressed with funny teasing between the band members and careless chit-chat with quite cheeky (in a good way) fans.
It's hard not to notice that with every tour the lights and stage arrangements are getting more polished. For me it's always been quite pleasing when bands, having such possibility, focus on the detail that can later please the spectators' eye. Some intros, bridges, accessories – "enjoy the little things":)
After the concert, as it usually is, the musicians found some time to talk/take pictures/drink a beer with or autograph something for the fans.
If some of you haven't yet got the chance to taste of the
Lord of the Lost
concert madness, let one catch the opportunity while it lasts – before they're gone once again towards calm acoustic sounds.
Other articles:
Newest comments: