Nachtmahr "Alle Lust will Ewigkeit"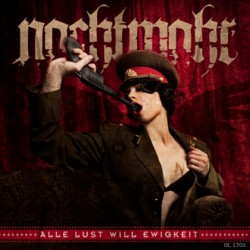 Reads: 4653 times
55%
Artist:
Galleries:
CDs catalogue:
Last topics on forum:
'Tanzdiktator' Thomas Rainer returns with the latest CD 'Alle Lust Will Ewigkeit'. After the success of 'Kunst ist Krieg' and 'Feuer Frei!' Rainer strikes again with a great dose of music perfect for the dance flor madness at gothic events.
Maybe not quite gothic, because the sounds contained on the CD we cannot call such. There are simply too dance-like and devoid of melancholy and reflection.That's just what everyone expects from Nachtmahr. Every song is an uncompromising piece of electronic energy. You'll find here everything you need to to have fun at a party. From the distorted bits, through borrowings from EBM music, to industrial noise, and at times even trance.
Thomas's vocal. as could be expected. is similar to what we can hear on harsh bands' CDs. Some of the songs contain short dialogues mostly between a male and a female. The title track sounds good with its catchy chorus, which introduces us to the rest of the album, in which a strong bass and synthesizer sounds are perfectly solicitation to dance. The next two tracks - 'Code red' and 'Tanzdiktator' - also doesn't bore us. Very quick and well-balanced sounds, indeed. In principle, in the rest of the album nothing changes in this matter.
Trance-like 'Vendetta' sounds nice and 'Weil ich kann's' may oush some people into consternation. It's a song straight out of a techno gig. Obvious mistake and Rainer's dud, in my opinion. This proves only, that Rainer is not an outstanding composer but really quite average. I must admit, that the tracks are not schematic and in each we can find something new and independent from the general impression after hearing the whole album.
The album lasts for only 43 minutes. So if you're planning on doing some long-run dancing to industrial or noise sounds, it's worth having a some another CD waiting to fill in. While Rainer's newest album can act as an
aperetif
, that will set out the right mood for you.
Tracklist:
01.Alle Lust Will Ewigkeit
02.Code:Red
03.Tanzdiktator
04.Klingen
05.Sklave
06.Vendetta
07.Alpha/Omega
08.Weil Ich's Kann!
09.Traume
10.War on the Dancefloor
11.Morder
Other articles:
Newest comments: