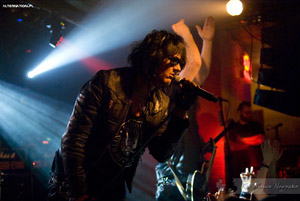 Reads: 2481 times
Artist:
Galleries:
Last topics on forum:
Arriving to Klub Alibi just before
The 69 Eyes
were to come onstage, I was worried if I'll get a good place to take photos. However, there were not so many people in front rows, so picking up a place was not a problem.
It's become a bit of a custom, that the band starts their concerts with
Bad Things
from
True Blood
as intro. So when the first notes of the song sounded we all knew it was about time for the guys to come out.
They started out with the opening song from their last album
X
–
Love Runs Away
. Perfectly energetic start that swept away the audience gathered in Klub Alibi. After that a sort of 'best of' from the last seven albums followed, with both gothic ballades and rock n' roll hits.
The audience swayed and danced to the more melodic songs from
Paris Kills
album, like the beloved
Dance D'Amour
and
Betty Blue
or, not played for a long time,
Forever More
. Everybody went wild with the energetic music, that included the three best, according to me, songs from latest record – previously mentioned
Love Runs Away
along with
Tonight
and
I Love The Darkness In You
.
That night the Finns also gave their fans two special gifts: the oldest from the set, band's first gothic song -
Wasting The Dawn
, as well as a long forgotten, dreamy and melancholic
Sleeping With Lions
.
The whole energy of the gathered fans had a final outburst at the encore, when the band played a classic ending –
Brandon Lee
with
Lost Boys
. Every single person jumped higher and sang along louder than before to give the musicians an enthusiastic farewell and thanks.
The whole concert was as splendid as always, a perfect mix of gothic melancholy and rocking energy.
Even though the club was not full, the ambience was marvelous and one could see that the band was also having a great time. After all, when
The 69 Eyes
came to Poland for the first time some 10 years ago, their only concert gathered such audience, and this time, it was last of three concerts. Quite a pleasing improvement, I would say.
Setlist:
01. Love Runs Away
02. Gothic Girl
03. Tonight
04. Forever More
05. I Love The Darkness In You
06. Wasting The Dawn
07. Dead Girls Are Easy
08. Betty Blue
09. Black
10. Sleeping With Lions
11. Dance D'Amour
12. Red
13. Never Say Die
14. Feel Berlin
15. Devils
-----------
16. The Chair
17. Brandon Lee
18. Lost Boys
Other articles:
Newest comments: