V/A - Black Snow 2 - the completely different Xmas compilation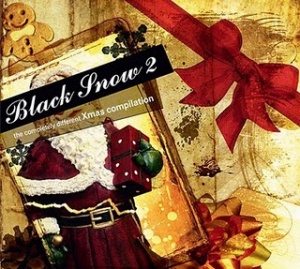 Reads: 2481 times
70%
After a noticeable success of the last year's Christmas compliation, Blackrain continues its "Black Snow" series. This year's compilation features 13 tracks, which specially created on the occasion. Just like it was a year ago, they are to express certain feelings and a specific apporach towards the Christmas. The release constitutes a continution of the idea, which was made up last year - that is the one of Christmas being presented with a hint of fear, mixed with a certain dose of depression and a bit of joy in some of the tracks. Few of the pieces are fully melodic and catchy, one just cannot help listening to them. Some of them are rather gloomy, I'd dare to say even depressing. In a song of Jabberwock, the words "Christmas time" may be heard. For many of us Christmas is the time of an absolute and sheer joy. We shall by all means listen to the above-mentioned piece as its rhythym simply encourage you to act. A fast, rather agressive rhytyhm may be heard. To my point of view it might make you think about Christmas itself. Who has happened to forget about its atmosphere will surely recall everything after having listened to this track. Killedbycandy is quite rhythmic, with fast pace. The lyrics are in German. It is a fast track, which drowns out everything. Only heavy sounds, coming off the synthesizers can be discerned. It relates to this feeling of not taking everyhting too seriously. In Elektro Xentrixs one may notice some voices which sound as if from outer world. They are a bit horryfing, then a rhythmic sample emerges. The song is about a girl - "baby" - which can be clearly heard. However, there is something about Christmas as well. Certainly, a sort of Angel floats over the track's peculiar atmosphere. This piece gives a moment of relaxation, perhaps some sort of reflection, to a listener. In Psyborg Corb some bells might be heard for a moment, but after this short while a strong thumb is introduced. Really rhythmic, severe tunes are played in a rather heavy way. Nonetheless, the lyrics are hardy audible. The sound of drums is emphasized. However, one may have an impression that the music is quite deliric, which renders it slightly difficult in perception; its rhythym changes constantly, a word "po,po" is being repeated over and over again, every now and then high tones join the whole. Tyske Ludder with its German-sung song is immensly rhythmic, developing, with a specific voice of the vocalist - a bit husky, a bit muted. It makes a perfect song for all those, who prefer Christmas in a pop-style. In Digital Factor the sounds rise rhythymically, it engages the listener in the act of listening with a an ever-growing power, the listener who is keen on fiding out what the song is actually about untill it reaches the part about a Christmas tree. "The mother speaks about an illness", this is Christmas, when one should be healthy. Nevertheless, these words are worth of bearing in mind. On the other hand, something about the Christmas of lies might be heard. Who lies and why - that is a question. In Nule Silent Night, the beginning is reminiscent of one of the French songs, which was a musical background to a cartoon (a quite popular advertisement), the whole is joined by a traditional melody from a Christmas Carol - "Silent Night", played on the trumpet. It is by all means an interesting blend of two different compositions. Christmas Day Dreamg starts with some words about Christmas, then heavier rhythyms join in, its pace is really staggering. In Ce Digest Antichristmas, the Christmas was compared to the fire. In Data Strip It Happened on Christmas Day, some sounds are similar to those of Scottish bagpipes. In Atomic Neon a romantic tone of guitars is introduced, the melody itself also resembles traditionally Scottish music in some way. It is a real pleasure to listen about Christmas in this case. In Reliquary one may savor the high voice of the vocalist, who sounds like an opera-singer, the voice which is calm, enjoyable, suiting the atmosphere of Christmas in a paerfect fashion. Christmas is lofty, full of a sort of reverence; this piece is definitely worth a listen, fi you want to feel the atmoshpere of this holiday in its entriety. In the Feindflug's track, which features a guest appearance of Sara, a really loud voice may be heard, heralding a new day, which actually might be the day of Christmas.The beginning belongs ot Jabberwock and their track entitled "Fragment 25". It agressively forces you to think about Chrtimas with its repetitive phrase "Christmas Time". The whole record is to make you consider the cord fo Christmas and reflect on it. Yet, its atmosphere is truly diversified. Rather discernible changes of both rhythym and lyrics appear on the record. Noentheless, its construction is well-thought.
Tracklist:
01. jabberwock "fragment 25"
02. killedbycandy "Tanz den Weihnachtsmann"
03. ElectroXcentric "Santa Baby"
04. Psyborg Corp "Angels we have Heard on High ProtonIced Version)"
05. Tyske Ludder "Weisse Weihnacht"
06. Digital Factor "Bloody Christmas"
07. Nude "Silent Night"08. V2A "Christmas Day Virus"
09. CeDigest "Antichristmas"
10. Leaether Strip "It Happened On Christmas Day"
11. Atomic Neon "Winter In My Heart"
12. Reliquary "Es ist ein Ros entsprungen"
13. Feindflug feat. Sara Noxx "The Impossible Dream [Raachermannl Mixx]"
Bonus-Videos(Songs originally released on Black Snow Vol.1):
01. Dandelion Wine "I Want a Hippopotamus for Christmas"
02. The Pussybats feat. Meli (Livid Halcyon) "A Wish"
Other articles:
Newest comments: