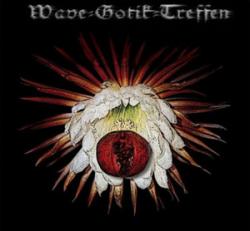 Reads: 9614 times
Artist:
Galleries:
Last topics on forum:
The dark alternative is a very broad stream, and everyone who has ever visited Leipzig during the cult gothic festival Wave Gothic Treffen knows it. Every fan, even the most sophisticated, finds something that suits their tastes best there. One can choose among goth, industrial, electro, metal, ambient, neofolk and many similar genres. It is a very hard task for someone loving one genre to make most optimal plan of the gigs they want to see, sometimes they have to choose between their favourite stars - to be honest even quite often, actually. Here I will write what was happening on the neo-folk and ambient scenes - I guess that many people wanted to get there, but unfortunately didn't manage to.

Friday

On the first day of the festival for me mainly it was worth to be in Kupelhalle rotunda. It is a distinctive building, one of the buildings in of the Leipzig fair. Many of the good bands had played there, for example Derniere Volonte. As the first band on Friday night played Jannerwein, name unfamiliar to me, but the publicity was quite numerous, so I thought it will be worth listening. The band played melodic neo-folk with German lyrics. They issued an album in 2008 in Heimatfolk (Steinklang Industires sublabel), but while listening to them I thought mainly of Eis& Licht productions. The band played guitars, accordion and flute, and was assisted by Kris from Sturmpercht and Thomas from Die Weisse Rose. I guess that they will be some fuzz about Jannerwein quite soon.

Of the Wand and the Moon gig started very slowly and calmly. On the beginning, the music sounding in the dark didn't resemble the Sonnenheim album, sounding more like pure ambient. After few songs the band played Nighttime In Sonnenheim, Summer Solstice, or Heil!Heil!Heil!. The band was supported by a member of Solblot in playing a few songs. During the gig there were also played few older tracks - My Devotion Will Never Fade and I Crave For You. Many people compare OTWAM to Death in June - quite reasonably. Kim's voice resembles the voice of Douglas P. The gig was played with the utmost carefullness. Many people are waiting for their new album.

After Rome gig, during which the band played their most melancholic and climatic songs, played Ian Read. It is a name highly noted in the neofolk scene. The modern bard of the XXI century sung his ballads with a great passion, supported by Forseti band, and the climate was full of magic. Fire+Ice is a living legend, where the emotions and the story are more important than the music itself. The audience shown full respect to the artist, clapping forcefully after every song. The last track was dedicated to the Blood Axis frontman, the idea was liked by the audience.


Saturday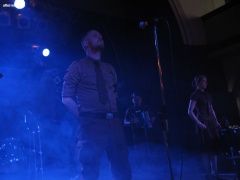 The day was opened by
Die Weisse Rose
. I have mixed feelings about them. Many people say that they copy or continue the creations of Michael Moynihan and his Blood Axis. But I would say they do not: yes, they played in martial style, in pompatic, grim and high spirited way, but it is still not enough to get a title of a "cult" band. John Murphy on drums and two blond beasts on snare drums didn't help. In my opinion, the project is overrated, but the audience in Anker club was full and many people liked the gig.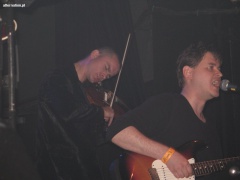 Then,
Neutral
played, and the audience was smaller. They played few years ago on the same festival, consisting of only two people - guitarist Ash and his friend violinist. They had shown a lot of energy, with a charismatic vocal, strong accords and virtuous violin. This time they got help from White Angels Watch and there were drums and additional guitar, but the gig was also very good. Most of the songs were from "Serpents in the Dawn" and "Diamonds in your hands" albums. During the gig they had a short chats with a group of Russians beneath the stage. They played one encore and left the scene.
Then,
Ostara
came. It is a very important band for the neofolk scene. Richard Leviathan had recently played in the cult band Strenght Through Hoy, Foresta di Ferri and KAPO! (with Douglas Pearce from Death in June). Beside him played two guitarists, so there were three guitars and a vocal. But it was enough to satisfy the audience. They played the tracks from the earlier albums, as well as the newest. Most of their songs mixes together the melody and dark lyrics, making a brutal and special combination. The most special and significant was the voice of Leviathan, the most important element of the evening, the guitars being only a background actually. His voice was exposed fully during the encore acapella.
The night in Anker was closed with the 6comm show with Patrick Leagas - the man without whom Death in June could have been quite other than it is and NADA! would probably have never existed. His gigs are rare, so many people waited anxiously for his performance. And they had to wait long. Finally he arrived with the accompanying music, dressed in a long martial cloak and helmet, looking as if he had been in a trench a second ago. But it was just a disguise, because he didn't played martial at all. The show passed quickly because Patrick was everywhere on the stage, getting the attention all the time, especially during the parts with electronics and strobe lights. The calmer parts were special for his voice - especially The Torture Garden Song from NADA! of Death in June album - this song hit the hearts of the whole audience. Everyone knew that this song played now by the ex-member of DIJ, when DIJ doesn't play anymore, is a rarity.

On Saturday night there was one more show. It was played on main stage at 1.30 - and played David Tibet with his band. Was it Current 93 at their best? Now we can find many excuses for the choice of songs and a way of arranging them - because in a steel hall no one can create magical mistery. Compared to the Wrocław gig, those were absolutely two different shows - in Wrocław church it was magic and climate and feeling of being in a presence of the Absolute, in Leipzig it was a rock opera with musicians in t-shirts and sharp guitars. The artists and part of the audience had much fun, but some of the people wished they could forget the event as soon as possible. I guess they were desperately listening to calming Tibet's ballads after the gig.



Monday

I wouldn't like to be understood wrongly. For me Sunday was the day (first time in the 9 years since I started going to WGT) with no gigs worth attending. I was talking, walking slowly, visiting stalls with CDs, just chilling out.

On Monday I returned to Keppelhalle. Hipnotic spiral was sucking me down deeply, until it hit the oniric sounds of Troum. First I saw Phelios - young guy in Herbst9 T-shirt, in glasses and with long hair. He was visibly jittered and was scared when he accidentally pushed down Circular's equipment already prepared for theirs show. He managed to be doing quite well sitting behind his computer. He lit the incense sticks and played dark, rhytmical music, visibly tinted by Bad Sector and Lustmord. He played around ten songs in a little bit chaotic and incoherent way and three more bands played after him: Circular, Herbst9 and Troum. Those bands offered a huge mystical trip operating with drones and humming noises. The cosmic sounds seemed to cummulate and stuck every inch of the building. There were also visualizations amplifying the effect - whirling signs, castles, sinister woods. All three of them definitely gave shows at the high level: their music is good to listen from CDs, but live it is even better.

Pages:
Other articles:
Newest comments: