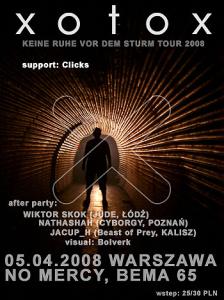 Reads: 5641 times
Artist:
Galleries:
Last topics on forum:
We got to the club a long time before others so we could see all the preparations for the concert, as well as Xatok`s sound check. Thanks to that we knew that we had to arm ourselves with massive armor because there would be a mighty explosion on stage.... but more about that in a moment.... First something about supporting band i.e.

Cliks! It is a young Kr-lik`s projekt, who is the mastermind of the known Controlled-Collapse. It was a difficult task to gather the public close to the stage, but the one-man band succeed. A few lively tracks made part of the crowd to move to the rhythm or gather a crowd around the stage. All together the concert was quite short. Time passed really fast even though he played 10 tracks. There wasn`t any encore but both performer and the public were satisfied with the show. I agree with the public`s opinion.



01. intro
02. a new way
03. wannabe
04. fall apart
05. dance to the beat
06. grow up
07. tv
08. when she moves (remix for vein cat)
09. it's time
10. wasting


Half an hour of impatient waiting heated up emotion to the highiest degree created a real ticking bomb of the people, who waited only for a spark which Xatox should give from themselves on stage during this evening. And it was exactly like that! The concert was a fantastic explosion of good heavy industrial sounds with plaited beat causing contact lenses and nails to shake. A music bomb, that fall on the crowd started a chain reaction- people were in a trance for almost an hour and a half. When Xotox finished playing the public pressured them to play an encore and yet another one. Finally fans took pity on the band- they were sweating more than the crowd on the dance floor- totally tired of industrial war. The ones who missed the concert- really missed out!

01. verlust
02. lichtlos
03. ewig
04. mechanische unruhe
05. industrial madness
06. winterblut 2: eiszeit
07. nasse waende
08. grob fahrlaessig
09. wirbeltier
10. winterblut 3: ewiges eis
11. tote baeume
12. [psi]
13. rhythmuskaputt
14. eisenkiller

bis 1:

01. [xo]toxic
02. roboterkrieg

bis 2:

01. i want you



Afterwards DJ`s were supposed to keep up the atmosphere and they managed quite well. Those who stayed alive and still had energy to do something else than only fall down at the place where they stood could move to sounds played by Wiktor Skok, Nathasha and Jackob_h. At 6 o`clock a.m it was time to return home with Xatox in the earphones. Now there is only waiting fot their show at the Wave- Gotik- Treffen!
Pages:
Other articles:
Newest comments: