Zeromancer - Death of romance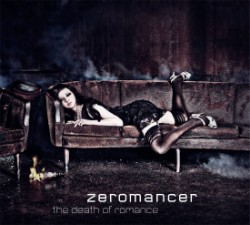 Reads: 2715 times
70%
Artist:
Galleries:
CDs catalogue:
Last topics on forum:
We didn't have time to familiarize ourselves with the previous album "Sinners International" and Zeromancer releases yet another album, prepared in one year - "Death of Romance." Admittedly, that's a good move of the band as every fan dependent on industrial-rock sounds simply Carnot exist without this dose of music.
11 tracks characteristic of Zeromancer were included on the reviewed album. If you liked the hits like "Need you like a drug" or "It sounds like love (but it looks like sex)" also "Death of Romance" will appeal to you from the first minute. Not to mention the fact that the Norwegians start with a strong impact thanks to two tracks - "Industrypeople" and "The hate alphabet". They are a combination of power guitar and dynamic drums, complemented by excellent electronic parts. Let us also add a vocalist who sings with a big commitment. After those commences the title "Death of Romance." Very phlegmatic and melancholic. Some fans, who started listening to the Norwegian band 10 years ago, quite possibly grew out of it, got mature to such an extent that they could regard the band's music as too artless. The same thing concerns the following track - "The Pygmalion effect." In both songs we are dealing with a similar convention in which Zeromancer creates beautiful melodies in a fairly uninteresting form.
I strongly prefer more uncompromising recordings to those put at the beginning of the album or as "Revengefuck. A short,over three and a half minute industrial composition, with an easy-to-sing chorus. Similarly, "Virgin Ring" and "The Plinth" represent the strength of this album. I do not have any objections against the selection of vocal and guitar riffs. The whole complements itself perfectly, the tracks pervade one another. This favorable synthesis of the diversity of songs last to the very end of the record. Pleasant to the ear is - 'Mint', In the slow rhythm of drum beats. At the end of the album Zeromancer once again reminds about the repertoire in which the band feels best. "V" is the pure essence of the power of industrial, very rebellious song indeed. It's a great pity that such a good track ends the album and the silence falls.
I consider "Death of romance" a coherent album maintained in industial-rock conventions. Taking the previous releases into account, I regret that the Norwegians did not dare to play with compositions without restraint. Everything is full of an excessive order, obvious. They can play in a modern and energetic way. They did prove it, yet I would love it if they forgot about patterns and were more spontaneous in arranging alternative sounds while creating another album.
Tracklisting:
01. 2.6.25
02. Industrypeople
03. The Hate Alphabet
04. The Death Of Romance
05. The Pygmalion Effect
06. Murder Sound
07. Revengefuck
08. Virgin Ring
09. The Plinth
10. Mint
11. V
Author:
_Morfeusz_
Translator:
murd
Add date: 2010-11-05 / Music reviews
Other articles:
Newest comments: