Christian Death - Behind the Veil Tour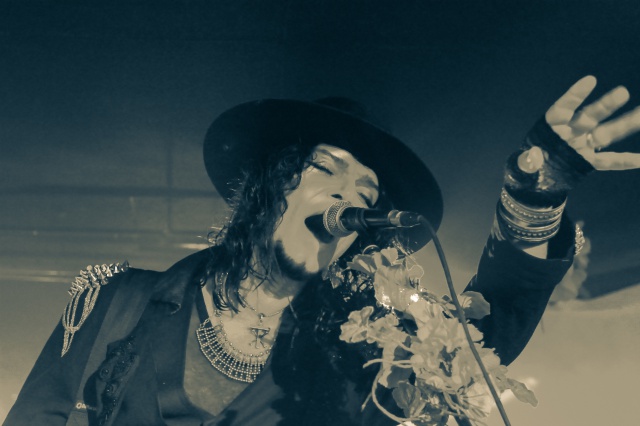 Reads: 3571 times
Artist:
Galleries:
On 21st of June, the legend of the Gothic scene – the band Christan Death – played in the Liverpool club in Wroclaw. A day later, the project also performed in Warsaw, in the club Poglos. Both concerts were part of Behind the Veil European tour. The band, whose influence on the American goth rock scene is undisputed, went through various stages during their artistic journey. In the initial phase, inspired by glam rock, the work of David Bowie, Roxy Music or Throbbing Gristle, they were strongly focused on theatricality and provocation.
The albums "Only Theater of Pain", "Catastrophe Ballet" and "Ashes" were released with the first vocalist of the band Rozz Williams and they constituted a kind of initial chapters for the story of the band. In 1985, Valor Kand became the leader of the band inspiriting them to move on to a more intellectual and political direction (as evidenced by the first album released with Kand "Atrocities" treating on the impact of World War II).
The performance in Wroclaw featured a lot of theatricality, concentration and intensity; it was also an emotional journey through subtle shades of rock sounds. The notion of scenic trance, hypnotic vision as well as openly demonstrated emotionality contrasted with the strength of guitar music enhanced by the dynamism of the drums. The musicians appeared on stage that was decorated with red roses, bathed in dim lights. The songs presented were a compilation featuring songs from e.g. "The Root of All Evilution" from 2015, and older albums, e.g. "The Scriptures", "Catastrophe Ballet" and "Ashes" respectively from 1987, 1984 and 1985. I particularily liked liked the presentation of "Secrets Down Below", where Maitrie's great vocal and artistic power was fully exposed; the performance was as expressive as emotional one.
The music of Christian Death, in spite of the fact that the guitars add rock power to it, is in a sense strongly meditative, intellectual and spiritual – that's also what my general impression of the band's concert in Wroclaw was like.
Setlist
Black Sabbath (Black Sabbath cover)
Golden Age
The Drowning
We Have Become
Forgiven
Penitence Forevermore
Secrets Down Below
Narcissus Metamorphosis Of
The Luxury of Tears
As Above, So Below
Black Moon
Deliver Us
Incendiary Lover
As support for Christian Death,
Hyoscyamus Niger
, a cold wave project, appeared. They have existed since 2000, they performed in Wroclaw more than once, so the audience gave them a warm welcome. HN's concerts are a combination of an extremely emotional and expressive stage sphere – the vocalist Tomasz Sokołowski, since I remember, has always been very involved in every show, nothing has changed in this respect. Their concerts are a kind of katharis, a spectacle, spiritual experience, maybe even a performance. Dynamic, intense music combined with a distinctive, somewhat neurotic and suggestive combination of the frontman's game with the audience gives a very lively, engaging and eye-catching effect.
Setlist:
W izolacji
Biuro myśli znalezionych
Dwunasty dom
Niewłaściwe wspomnienia
Kwiat ciszy we mgle
Czas
Pytania
Dwie gwiazdki śniegu
Other articles:
Newest comments: