Front Line Assembly - Improvised Electronic Device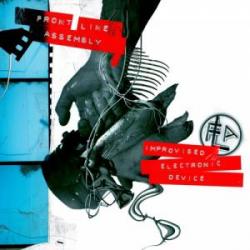 Reads: 5091 times
100%
Artist:
Galleries:
CDs catalogue:
Last topics on forum:
This time the Canadians treat a listener to more danceable, yet by all means industrial sounds which are suitable for all sorts of (not only) dancefloor follies. The last release of Front Line Assembly proves that industrial music is more than prosperous.
Each track sinks in, bringing unparalleled sound combining both heaviness and aggression of guitars, which no heavy metal band would be ashamed of, with gentle tones creating wonderfully ambient sceneries. The thing which captures your attention in the band's music is a constant development of sound and a courage in carrying out musical experiments. This time it is about using guitars to create an integral music area. A diversity of compositions is impressive – starting from "Angriff" which suggests an association with the music of Die Krupps or KMFDM. It is a track which literally knocks you down unconscious with its harsh sound of guitars faultlessly intertwined with heavy beat of drums. Strong, saturated sounds additionally enforced by a chorus sang in German is a tribute to Teutonic gods from Rammstein.
The record does not lack politically-oriented tracks which strongly object against the presence of troops in Iraq and Afghanistan – "Hostage" – a heavily drum'n'bass one, or "Laws of deception" –dominated by overwhelming melancholy and cold ambient.
The single promoting the album – "Shifting Through the Lens" is the most danceable track of the release. It is a real masterpiece blending the best elements of electro, industrial and ambient. "Afterlife" is very personal, full of a particular romanticism and gloomy overtone. A very interesting procedure was used in the track – the sound of an acoustic guitar makes for an oniric atmosphere of Portuguese streets.
"Stupidity" is incredibly fast. Sharp and violent guitars render the track suitable for "Last Sucker" by Ministry. Not accidentally. Vocals which can be heard on the track belong to Al Jourgensen himself, who in addition helped to mix this piece of music.
In the last track – "Downfall" – Bill Leeb & Co. wink at their listeners as during the very last seconds of the song a word "Goodbye" appears.
Front Line Assembly is one of few bands which are capable of making the most of their best while simultaneously trespassing on new areas of dark sound and untrammelled exploration of tones.
Tracklist:

01. I. E. D.
02. Angriff
03. Hostage
04. Release
05. Shifting through the lens (Edit)
06. Laws of deception
07. Pressure wave
08. Afterlife
09. Stupidity (feat. Al Jourgensen)
10. Downfall
Other articles:
Newest comments: