Interview with Front Line Assembly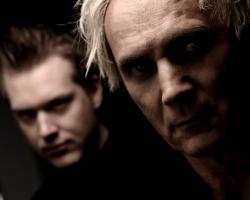 Reads: 4907 times
Artist:
Galleries:
CDs catalogue:
Last topics on forum:
Front Line Assembly have been an essential part of the Electro/Industrial-scene in North-America, South-America and Europe for now unbelievable 24 years. Besides some changes of the original lineup, you have always sticked to your individual style.
Please introduce us to your current lineup and tell us something about each band member's function.
Bill Leeb
- Founder and songwriter, lyricist and electronic executioner.
Chris Peterson
- Electronic industrial programmer producer
Jeremy Inkel
- Programmer synthesizer production songwriter
Jared Slingerland
- Guitarist, song writer, programmer,
How does it happen that Rhys Fulber is not part of the current lineup?
FLA:
Front Line Assembly has always had a open door policy in regards to line up. After extensive touring with our current line up, a unique chemistry was formed between the four of us. Originally, Rhys had intended on doing some work on IED but was busy with several other commitments (Fear Factory being one of them). By the time Rhys' schedule had cleared, we had already completed the foundation of the record and felt that it was perfect exactly the way it was. There is always the possibility for Rhys to return in the future but in this particular case the elements just didn't align for his involvement.
On your new record "IMPROVISED ELECTRONIC DEVICE", we find some lyrics sung in German again, like on "Civilisation". May German FLA fans interpret this as a compliment or do you feel somehow connected to Germany in any other way?
FLA:
Well seeing as I was born in Vienna, Austria, I have always considered German to be my mother language. I will always feel a huge kinship towards Germany and Austria. I also wanted to pay homage to all of the German speaking people because I feel that electronic music was born in Germany, the forefathers of electronic music all being there; Kraftwerk, Tangerine Dream, Klaus Knomie, Faust, etc.
Some of the songs, like "Hostage", sound quite technoid. Some songs, like "Release", come up in a very rock oriented style. In contrast to this, your last album solely had electronic sounds. How come that tracks on "IMPROVISED ELECTRONIC DEVICE" appear in such a diverse way?
FLA:
The fact that this album was the biggest collaboration between 4 guys that we've done, the joint effort is where the diversity comes from We each sort of excel in different areas, when you put it all together this is what you get. We also do not want to be a one dimensional band, we like to incorporate all musical elements providing they fit. At the end of the day we don't like to limit ourselves to any particular style or sound, we just let creativity take its own form.
After having listened to "IMPROVISED ELECTRONIC DEVICE" for the first time, I received the impression that this CD sounds like a retrospective of FLA's productive period. Just a coincidence or purpose? FLA:
We have encompassed all of the best elements from the past, but I think we have also thrown quite a new spin on the sound because of all the new angles of input. Having said that, we feel at the same point once you create a certain sound you not feel discouraged to revisit or maintain it. The face and originality of a band is really what's key and important to maintaining a good perspective and reflection of the art.
Just to step back in time – I am an avid fan of your second last album "Civilisation". What were the reasons for you to release such a calm and quiet album? It deeply reminds me of Bill's side project Delerium... FLA:
That was the strangest time in Front Line Assembly's lifespan because at that particular moment, Delerium was becoming massive and FLA was sort of put on the back burner. Everybody had sort of walked their own ways at that particular time. So when Rhys and I decided to do this record, it was literally done in 1 month and because of the huge Delerium phase, some of the boundaries definitely collider or crossed paths between the two projects. It really felt at that time that this would be the last Front Line album, even though deep down inside I hated that thought. Mainly because i thought that the album didn't really represent Front Line at all, plus I was going through a heavy divorce (of which the song Vanished appeared). All in all it was probably one of the worst times in Front Line Assembly's history, personally and musically.
FLA is often mentioned in the same breath as German or North-European EBM. Do you like European EBM and can you identify with it?
FLA:
There is so many forms of electronic music that I think there's good and bad in each element. I think that good EBM and there is not-so-good EBM. There is definitely the ground breaking EBM like Nitzer, DAF, and Front 242 which are totally classic. I will always pay homage to those influential groups.
How do you consider the future of electronic music in America and Europe?
FLA:
Electronic music has splintered off in so many different veins, it is really hard to grasp the final outcome. As long as technology keeps evolving, so will electronic music, good and bad.
What do you think you as an artist have achieved so far in a historical point of view?
FLA:
I hope that we have helped carry the torch in the industrial electronic music genre so that we will inspire future artist and keep this evolution in music going. I hope that we have inspired other artists to continue on in this way.
What is the philosophical background of the FLA concept?FLA:
Trust no one, always believe there is more than 1 side to every story. Think for yourself and don't buy into the hypocrisy or the man made laws that try to control our civilization.
Your CDs always come up with an absolutely great artwork. Do you constantly collaborate with the same designer or do you purposefully watch out for congenial artists to implement your own ideas? FLA:
We consider Dave McKean as a official member of Front Line Assembly. We think that he is always at the cutting edge of creating illustrations that relate to what we are doing, we will probably always continue using him. One of the great things of working with Dave, is that we don't really tell him what type of imagery we are looking for, he just responds to the music and it is the greatest type of collaboration between two artists.
On your new album – in which way do music and cover artwork concur?
FLA:
Again, Dave McKean and us always seem to be responding on the same level. I think the art itself is self evident when you hear the album how the two work in cohesion.
Now let us consider the songs in detail. "Afterlife" is a gorgeous ballad distinctive of FLA, just in the vein of "Threshold". What is the central theme of this great song?FLA:
All the time lost between me and my now deceased father and our one and only meeting after 20 years in Vienna, Austria. We didn't really have enough time to get to know each other again. Hopefully there is more to life than just death.
I dare say that "Angriff" is one of the best songs on "IMPROVISED ELECTRONIC DEVICE". Here we also find the German lyrics already mentioned above. What was your desire to express with this song?
FLA:
This song relates to mostly to the fact that the first time we went to Russia it had quite a astonishing impact on all of us. Mainly because of the background of the country and its historical symbolism which really relates to Front Line Assembly's imageryUpon visiting tomb of the unknown solider, the lyrics from Angriff came to be. A very profound trip, Country and experience, and one that will always be remembered.
Due to Al Jourgensen of Ministry, "Stupidity" comes up with a completely different sound compared to the rest of the songs. What was your intention? Did you want to create a powerful, harsh Industrial hit, or is this song a preview of forthcoming FLA-albums?
FLA:
This song was a real joint collaboration between all respective artists. We had guest guitarist Justin Hagberg from 3 Inches of Blood on the track as well as Al Jourgenson. We didn't intend necessarily on making a powerful industrial hit or previewing a forthcoming direction, we just let Al get his hands dirty and put his own spin on the song. We felt he came up with a harsh industrial hit, intended or not.
In the last years, pirate copying and illegal downloading became more and more important to musicians. To which extent do you feel the negative effects of this?
FLA:
Our sales has taken the most negative impact of downloading. Good or bad, we can't turn the clock back everything happens for a reason. At this point it does feel like music had become a disposable product that you can get for free on most torrent sites. As for what the future will bring none of us will really be able to tell, good or bad. Until the mindset of people change towards the whole concept of free downloading, technology won't be much use to us.
What do you think are the most effective things to react to this trend?
FLA:
Difficult to say at this time, many labels and artists are taking a different approach to selling records by offering extra content with a physical CD, etc. The industry is undergoing a major shift and we will see how it all pans out over the next decade or so.
What has been your source of motivation for now almost 25 years to continue a band project and to collaborate in a highly creative way? FLA:
I think that creativity is just something that comes from within you, it doesn't function on an on and off level. I'm a very reactionary person, everyday i get up and see all the different view points in life of which I have to continuously respond to. As long as that feeling continues to get evoked in me I will continue to get creative.
I am really looking forward to your live performances in Europe this year. Do you rather prefer to go on tour in Canada or do you prefer to perform abroad? In which countries do you have the best-attended concerts and where do you have the craziest fans?
FLA:
We love playing all over the world but Europe is by far where we have the best attended concerts. Russia I would say had the craziest fans, most likely due to the fact that artists such as us have only been allowed to enter the country and perform over the last couple decades.
Can you please give us some details about your live-dates in Europe? 16 Jul 2010
Tivoli Utrecht,., NETHERLANDS
17 Jul 2010
Gothic Festival Waregem, Belgium, BE
18 Jul 2010
Corporation Sheffield, UK, GB
19 Jul 2010
Classic Grand Glasgow, UK, GB
20 Jul 2010
O2 Academy Islington London, UK, GB Find Tickets
22 Jul 2010
Lucerna Music Bar Prag, CZECH REPUBLIC
23 Jul 2010
Majestic Music Club Bratislava, Slovakia, SK
25 Jul 2010
Amphi Festival Köln, Germany, DE
28 Jul 2010
Ikra Moscow, RUSSIAN FEDERATION
29 Jul 2010
Zal Ozhidaniya St Petersburg, RUSSIAN FEDERATION
Potentially we will be coming back in October to extensively tour Europe again in support of our new record.
Where do you also go on tour outside of Europe?
FLA:
We will possibly being doing a month in North America as well in the near future.
Are there any cities you are especially looking forward to perform in? Why?
FLA:
At this point we like to think that every city we go and all the fans are of equal importance and special in their own way since we don't tour that often.
What are your future plans? Are there any plans for a video or even something really exciting in order to celebrate your 25th anniversary? FLA:
Nasty Byte is actually making a video for us for the song "Shifting Through the Lens'. We have no idea of time of completion though.
Thank you for the interview. Maybe you wish to tell your fans something?
FLA:
We appreciate all the fan support throughout the years and we hope that you will enjoy the new album and come and see us play when we make it to your city.
Other articles:
Newest comments: