Inerview with Matt Howden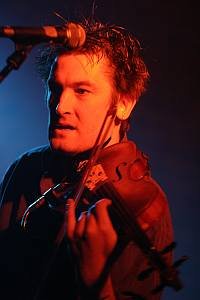 Reads: 8189 times
Galleries:
CDs catalogue:
Last topics on forum:
Interview with Matt Howden (Sieben) Khocico
:
Could you first of all tell us what was the reason that you started playing?

-
Matt Howden
: Well I'd love to say it was something deep and meaningful like my innate passion for music... but it was wanting to be in a band and get a girlfriend, really ;-) the passion for music, the obsession with my music came later.
K
:
What were the most important moments in your career?

-
MH
: I think the most important was with an old hippy mate of mine, a guy called Roland who sang in the band I played in, in Lisbon, Portugal. I was considering giving up music at that time- as I was getting nowhere with it, and getting pretty frustrated (and starving ;-) He offered to do me an I-Chang reading. though sceptical, I agreed, as I thought it would be fun to see what came of it anyway. The essence of what it said was 'stop making music you think record companies will like, make the music that is true to you, bugger off and get good at what you do, and don't chase anything, rather let it come to you'. Shortly after that I think my career took off. I wrote Intimate & Obstinate, my first proper release. And then started to find out what i was, musically...
K
:
You perform both as Sieben and under your own name. The first activity is connected with your songs whereas the second with instrumental music. Could you tell us why you prefer to separate it like that? Do you think the two types of music appeal to your listeners differently?
-
MH
: Maybe. mainly I just wanted to make it clear to people what they were getting- when they buy a Sieben album it is songs, loops and vocals. Its what they hear when I play live. When its a MH release its instrumental, with longer passages of music, possibly more experimental, some pieces unplayable live. Was trying to make things more clear with this differentiation, but it just seem to have made people more confused ;-))
K
:
How would you describe the music you play?
-
MH
: I try not to. It gives me a headache! And it depends who I'm describing it too ;-)) I say very specific things like "I think it is composer/singer-songwriter music with folk/indie/goth/classical and experimental influences" Or- "it has melodies". Or "come to my gig/buy the album and tell me what you think I should say!"
K
:
Are there any particular tracks that are the most characteristic for your artistic output, that give the spirit of your music best?
-
MH
: Yes. Always the latest album. My sound has evolved over the past few albums, but it is gradually honing down to simple songs and loops, with catchy melodies and a nice mood to the song.
K
:
Could you tell us a bit about the side projects you participate in?

-
MH
: I have none now ;-) I gave them all up. Sieben is what I do, where my heart is. Though i do play with some other bands from time to time- like Job Karma in Poland, Larsen in Italy, Spiritual Front in Rome, and Defile Des Ames, in Greece- from time to time.
K
:
Which is the most meaningful for you?
-
MH
: My own work.
K
:
And which form of artistic activity do you prefer: solo concerts or performances with other artists?
-
MH
: Both ;) From a creative point of view I prefer playing my own solo concerts- this is music I have spent long hours making and honing. From a fun-night-out-whilst-playing-the-violin point of view, it is less pressure to turn up and play along with nice and talented people- joining in on a few songs and having fun. But most satisfying is to play my own music, to hold an audience, and to express myself.
K
:
Does the co-operation with other artists enrich your own music? If so, in what way?

-
MH
: Yes. You learn stuff all the time. My music used to be too dense, too tightly packed- and too over-worked. Playing with other bands, in other styles of music helps you appreciate qualities that are missing from your own music- or things that are too present, too unimportant in your own music- or things you can take away with you and develop in your own way.
K
:
What is your latest release like? How does it differ from your previous publishings?
-
MH
: My latest album is a Sieben one- "Ogham inside the Night". It is based (loosely) on the Celtic Ogham alphabet- each letter of which is also a musical note, and has a tree represented by each letter too. So it ties together music, language and nature- pretty much the sum of what my work is about anyway, so it was perfect. This theme was just a 'peg to hang my coat on' - the album deals with how we make sense and order the world around us. And hopefully its 12 songs that people can enjoy, whether or not they are interested in the themes or words. It differs from previous releases- well, it is a continuation and development of my work- but it differs in the sense that this is the first album where I have used only violin in the album to make all the parts of the song. As I do live. The violin loops, a melody is added, bass parts (I take the loop down one octave as I play), beats on the body of the violin- and then I sing over the top. I like the pure and simple sound that comes out from doing it this way.
K
:
Is there anything particular that inspires you to create music?

-
MH
: Landscapes and the visual image, mostly. I realised a couple of years ago that my music puts images into my head, and that i have a strong sense of the visual when I am writing.
K
:
Does the fact that you studied English Literature help you in writing lyrics? What are they about?
-
MH
: Possibly so. My interest in literature certainly does. My albums each have their own themes, but these are starting to overlap now, as I weave in themes from past albums into the new ones. Mostly they are about nature, both the natural world, and human nature, to some extent. My new album is a kind-of modern medieval Mystery Cycle play- with characters such as God, Lucifer, a knight and squire who have woken from a thousand-year sleep, the lamb, the moor, the hill, and a rude and truculent cat.
K
:
What in your opinion is the most important in making music? What effect should the music have upon the listeners?

-
MH
: There are many things to hold in the air at the same time, but there is also a need to for simplicity at the same time. And it has to come from the heart, through the fingers, with the head to guide and shape it. You have to be immersed in it and detached from it, too. Somehow I find it easier to do than to describe the process. But it is a combination of relaxing and letting the music flow out of you, and a tension that gives the music its vibrancy.
K
:
Let's talk about Wrocław Industrial Festival a bit. Last time we had a pleasure of watching you on the stage, this time you were one of the audience. What do you think of such undertakings both as an artist and a spectator?
-
MH
: I thought both festivals were excellent! I so enjoyed playing (I'd rather be playing than just attending a concert ;-) at the third one- the audience were so amazing, and it was so nice to introduce my music to the people of Wroclaw for the first time ever. And I really enjoyed the fourth festival. Both really nice events, well organised, with some great music.
K
:
I know that you gave several concerts with Job Karma. How do you find playing with them and do you have any further plans connected with the band?

-
MH
: It was great playing some concerts with Job Karma, some unforgettable experiences and concerts. Like playing in Firlej and at the Industrial festival. And having a bat flying round my head whilst on stage in the castle in Torun. he he, I felt like the king of the Goths that night! And getting to play in Gdansk cathedral, and go see Stocznia Gdanska the next morning. I'm hoping to bring Job Karma over to Sheffield for a concert here, sometime in the autumn. I've started promoting small concerts in my home town, in a nice little theatre called The Lantern.
K
:
Could you tell us a bit about your future plans? Are any of them connected with Poland?
-
MH
: Heh, they are indeed ;) And I'll be playing some more concerts in 2006 in Poland. Other than that, I'm writing the music for a film, have just finished my next Sieben album (High broad Field) which will be released in July. And I'm hoping to record my father reading a book of his poems, add music to it, and get it released as a book (with his paintings as artwork) and CD- its something I'd really like to do, and something I'd really like to do for him.
More info:
http://www.matthowden.com
Other articles:
Newest comments: