Street Culture: Soundwave!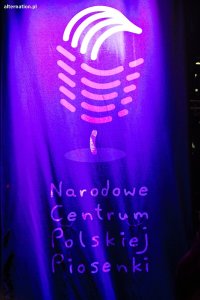 Reads: 4316 times
Galleries:
Last topics on forum:
15th April, fairly sunny and pleasurable day. After a nice way of traveling, provided by our PKP, I got off at a typically comunist railway station in Opole, where Soundwave was to take place and three concerts: Irfan, Sieben (Matt Howden) and OF The Wand And The Moon within this event.
After having reached my destination, I was pleasantly surprised by the size of a concert hall, which turned out to be small and atmospheric. I am not an enthusiast of big concerts, where fans push and shove and literally crash themselves, which usually results in leaving the area black and blue all over, puffing and trying to breathe as though a dying asthmatic person.

The first act that appeared onstage was Irfan; the songs were announced in quasi-English, yet this fact was not of any distrubance to anyone, even on the contrary - it was enriching the whole with a certain hint of peculiar charm.
A wonderful vocalist, with an exquisite smile and even more outstandingly beautiful voice was trying to enchant the audience. unfortunately, only to a certain degree did she succeed, as some part of people was talking loud, whereas the other was eliciting closely unspecified sounds. Those who were standing near the stage were astonished, let the mesmerizing vocals lead them. The manner of playing the old instruments really appealed to me, whihc was by all means a surprise nowadays, when all music is substantially played by means of computers. The whole combined with an extraordinary play on lights comprised a feast for eyes, as well.
The group did not have stage fright; however, their contact with the audience was rather mediocre... Most probably due to a language bareer.
When the band finished their set, I noticed that they started posing to the photographs with their fans which I found quite an asset of theirs.



I did not even note the fact that right afterwards people left the hall, leaving there only a couple of techinicians, me and Dobermann and then... Matt Howden came onstage to soundcheck. Owing to our leaving there, we were given opportunity to hear and see how that genius was preparing for his show, which was - at least in my case - rather an interesting experience. Matt is a perfectionst in every single inch, every detail had to be seen to thoroughly.

People started to enter the hall, some of them still talking. Then Matt appeared, greeting the auedience kindly, which rendered him even more charming a man in my opinion
He commenced his performance. Something ineffable happened. It was him who put a spell on the concert attendees. People were standing still, overwhelmed by silence, some of the slightly rocking to the rhythym of music Matt was conjuring with his violin, while simultanouesly mixing and recording all sounds.
After each track he was treating us to some anectode, like the one about his experience with one of the airlines, or recounting what had happened to his moustache, which immensly amused the audience.
He played my beloved pieces "Love's promise", "Sacrifice content, "Love must wax cold" or "Ogham the Sun". The only thing I was capable of doing at the time was absorbing the music with my all body and soul, beaming. Siben encored a few times, with people still asking for, even screaming for and demanding more.
Personally, I do not like applauding or shouting during concerts, I have my very own fashion of experiencing such moments of indubitable pleasures and I am not keen on sharing my feelings with other individuals. This gamut of emotions is far too private and intimate for me and I prefer to relish this very wonder in my own way.



After Sieben, a band named Of The Wand And The Moon performed. Frankly speaking, my mind did not manage to note the very moemnt they came onstage as I was still highly impressed by the things Matt had done. To my point of view, Matt should have been the last artist to perform for every band that would give its show after this genius, would simply come out miserably. Nonetheless, Of The Wand... played a truly good concert, at least during the part I still had pleasure to attend. It was clearly visible that the ones who loved the group were impatiently awaiting its performance and really enjoyed it.
Unluckily, I do not have much to describe in this case as I had to leave for my return train, hence, as was mentioned above, I did not see the whole concert.
On my way home I was still "tasting" and reliving the fabulous time I had just gone through, being unspeakably pleased despite my weariness.
May there be more such events in Poland!
I am sure about one thing - I will never miss on the chance to see Sieben live for it is an excellent balm for your musical soul!





Pages:
Other articles:
Newest comments: