Sieben + Matawan + Fear of the Forest + Lloyd James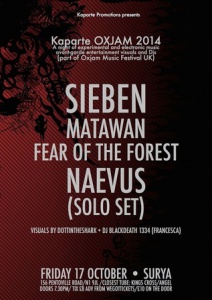 Reads: 2983 times
Galleries:
Last topics on forum:
For the date of 17 October 2014 I was waiting with kinda longing, looking forward for Kaparte OXJAM 2014, organised in Surya, one of the London clubs. The club is placed quite close to the Kings Cross train station.
Because Surya is small place, I was happy I will enjoy excellent music without pressure from people all around.
And I wasn't disappointed at all.
Four bands played that evening:
Lloyd James (Naevus)
Fear of the Forest
Matawan
Sieben
A little concert room is placed in the basement of the club, and on the upper level there is a pub, where before the show and in between the concerts you can talk to musicians, organisers, or just simply sit on the coach and have a rest.
As a first was playing
Lloyd James
from Naevus. I liked the performance, calm, a bit sleepy, soothing. But I've seen that he didn't catch many people downstairs, to the concert room. Such a pitty!
Afterwards
Fear of the Forest
band started to play. It was magical performance! The leader of the group is Kate Arnold, she is also the author of the lyrics and she is playing on couple instruments (violins, hammered dulcimer). Band is playing a mixture of folk, classic and Middle Ages music. Very tasty connection, indeed.
The next was
Matawan
, and unfortunately it's a band I will not write something positive from this evening.
It's a duo created by Gareth Chapman and Barclay Brennan. One of the guys took of the shoes (well, ok), both of them played something very quietly on their guitars, something what I could barely hear, and then Man Without Shoes (but in socks) bend down and show up to his knickers (hmmm hipsters ones) and he started to play with mixers and pedals. What looked more like a testing of new device. The Second Man join him shortly and started to play with his Magical Box Full Of Buttons And Pedals, causing also "nice" effect of sound feedback. And what about their music? Music was bad. Music of drones? Nope. I lost 20 minutes. And I am afraid I'll have nightmares.
But...
As a last played wonderful and magical, wizard of violins and doctor of souls - and how I like to call him - real British Bard, with the divine talent of casting words and people -
Sieben
.
As I already mention - I wasn't disappointed. Matt was in perfect condition. He gave around one hour concert. Fans could hear "Love Must Wax Cold", "Sleep, Clara Bow", "Jigsaw Chainsaw", "Transmission" and few other songs. The experience of listening Sieben live each time feeds my soul for very, very long time. It may sounds like a cliché, but all the world disappear in beauty of the sound of violins and soothing voice of Matt, and sounds looped by him, like by a wizard.
As something interesting I need to mention that in this moment there is available album from a new Matt's project, that he wrote and recorder and record also documentary video in just 2 days. He said about it during the concert - and obviously throw an album on the floor of the scene:)
I can't wait for another this kind events, and like organiser of Kaparte OXJAM said - soon there will be more events in London from Kaparte Promotions.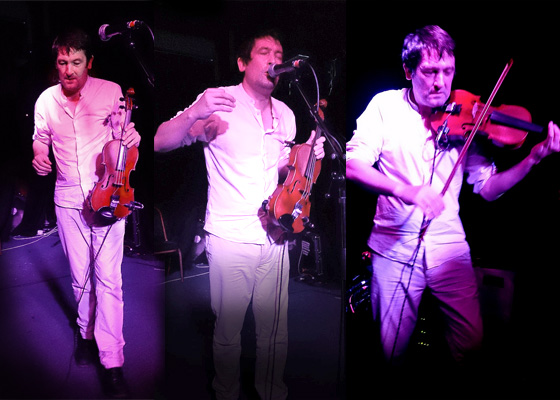 Other articles:
Newest comments: