Interview with Maja Konarska (Moonlight)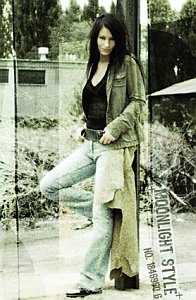 Reads: 12067 times
Artist:
Galleries:
CDs catalogue:
The interview with Maja Konarska of Moonlight -the vocalist and author of the lyrics.

LeX: Hello Maja. First of all I'd like to ask you quite a difficult question: What are your dreams?
-MK: I'd like to settle over the "perfect calm" :o) Once you have peace of mind and you're healthy you may do practically everything. My dreams are simple ones hehe. I'd like our music reach the people who will be able to understand it and feel it.
L: What is the meaning of the album "downWords", your recent studio publishing, in your life then?
-MK: "downWords" is our youngest child and I think the best :o) We are adult enough not to be afraid of passing things that we really feel and think.

L: Internet is becoming more and more powerful tool of promotion – how it is with Moonlight? What's your attitude to the Internet?
-MK: In 2005 our new and so far, most official, website was launched. One could say that we mainly deal with promotion via Internet.

L: What has changed from the moment you hired your first manager? How did it actually happen?
-MK: We play more and more concerts and finally we have someone to look after us. After several years it's a very nice feeling :o)

L: Now let me ask you something else – what does Maja Konarska values in people and what she doesn't like?
-MK: I mostly value sensitivity, goodness, gratuitousness,manners, sense of humour and smile ;o) I don't like - the raised voice, slamming the door (and people do it all the time), cheekiness, violence, hypocrisy (bleah)

L: Who in your opinion is your source of inspiration? Who do you value and respect?
-MK: No one :o) Life is what inspires me. I could say that in a way our producer (Marcin Bors) is my inspiration. And I value many artists: mostly those who pass the truth in the music. I hate commerce.

L: What would you like to pass to people by your lyrics and Moonlight's output? How your lyrics of the new CD could be interpreted?
-MK: I pass my thoughts and feelings. As to the interpretation I'd rather leave it to the listeners.

L: How would you describe yourself, who are you, what point of life you're presently in? Would you like to change anything?
-MK: I'm a woman, water, fire, a storm, a pearl at the bottom of the sea... :) I'd like to stop being too sensitive as it makes my life very hard.

L: Was the band's stylistic change intentional? What is the way the album's graphics correspond with the music?
-MK: How could it be unintentional? We play the music we like. The cover matches the music of course.


L: You used to deal with photography – would you like to take it up again? What sort of photos do you like?Who do you value, what annoys you...
-MK: I'm sure I'll take up photography again. I like it and as some say I'm good at it. I like 'clear' photos, without unnecessary details.

L: What are your contacts with the fans like? After the tour you must have some impressions connected with them?
-MK: I think my contacts with the audience are good. But this question should be posed to them :o) I've got plenty of impressions : majority of them is good, a few bad ones too. More and more often people LISTEN to our music on the concerts. It's very important to me.

L: At the end: could you tell us what are Moonlight's prospects? What are your future plans?
-MK: Plans are grand and long-term ;o) We're going to play, play, play. And then play just a bit more.
by LeX

www.moonlight-band.art.pl
Other articles:
Newest comments: