Mono Inc. - The Clock Ticks On 2004-2014 incl. Alive & Acoustic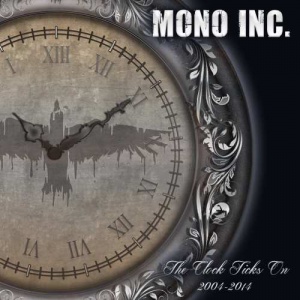 Reads: 3668 times
83%
Artist:
Galleries:
CDs catalogue:
"Best of". These words can cause a particular cheerfulness masking embarrassment, when you recall about existence of bands issuing compilations of this type after only two albums, which saw light of a day. Such things - overseas, in Europe that right still has to be earned. It is like that in case of Mono Inc., seven studio albums during the decade (frequency is worth rock stage of 70's) that are followed by many other releases, extensive touring – it has to be celebrated in a special way. But wait... you ask: what is so special about it? First of all fact that
"The Clock Ticks On 2004-2014"
are two records with different profiles. The new one for the German group, partly presented in impoverished numerically and qualitatively version on "Twice In Life" EP, is the first fully acoustic LP.
And here is the surprise! Who observes carefully gothic scene, knows, how difficult it is to record a good work of this type. For many disappointing items in recent years "Alive & Acoustic" can be regarded here as a role model. It is so refined and thrilling that simply fills up with enthusiasm. After "Nimmermehr", which, despite its success testified at some degree by a collapse of the group's concept and secondariness, Mono Inc. managed once again to bring into their music freshness and originality. Praise them for it! "Alive" is by no means 'live', which allowed to eliminate any possible deficiency in arrangement. "Alive" is certainly not yawning boredom from acoustic version of "Twice In Life". Whereas we are dealing here with mature sound and, above all, plenitude obtained by composing many of tracks almost once again (forget about previous acoustic versions of "Seligkeit", "My Deal With God" and "Gothic Queen", apart from the title they have little to do with "updated" in common). Except from standard set of drums, acoustic and bass guitars attention is caught by classical instruments, including violins that admirable lead melodies, which juicy, sliding gently or firmly stepping on the score parts sometimes replace keyboard lines or paraorchestrations; there is also present, of course, piano (it is worth mentioning also accordion or flute in "Somberland"). However, the role of these elements is varied so, as to intrigue listener with its stylistic diversity. Mono Inc. play here with everything, among the others rhythm and tempo (slowed down "Symphony Of Pain" with distorted pulsation of rhythm that reaches perfection in "Temple Of The Torn"); you can see a bit of country influences, a little of chamber music, but it is mostly exuberant rock with classical violin and string base, which barely gives a way in power to its electric siblings (as in really strong "After The War" or "Get Some Sleep") - energy here is simply moved into another dimension, even in a quieter variety it heavily rocks, and spare compositions ("Potter's Field" for piano and violins) complement it perfectly. Greater clarity and transparency of sound highlights warm, relaxing melodies of Martin and Kathi voices (vocal lines have been in large parts preserved, as well as samples). Some of the tracks on "Alive & Acoustic" cannot be recognized at first "hearing." Warmth, romantic mood or melancholy fill here the sound - this album, will be a sufficient fireplace in the winter. Even terribly kitschy "Gothic Queen" sounds here like something sublime. I do not understand, however, after all presence of "Twice In Life", unless you treat it as an ability to refine the mix.
"Best Of" itself also brings some surprises. Unfortunately, one is not necessarily good - selection of songs from "Nimmermehr" that in such a configuration are lost somewhere among more vivid ones (maybe except "We Deal With God"). Rest of astonishments are just pros. Last two records brought to group greatest success and recognition, so that is why their representations are the most numerous, the remaining are in two compositions - this is enough, because in the end quartet's music has changed a little over the years, however, in "The Hole" or more indie "Superman" from the debut it was necessary to record everything once again. It is a jackpot, refreshed "The Hole" has no longer complexes, vocal line was written from a scratch, electronics changed face and was moved to the background. Second advantage: to both hit like gothic singles from "After The War" was added "From The Ashes", artistically the most developed, composed far away from fashion on radio hits - it is rather a surprising choice, but highly deserved. "Revenge" in a style of The Sisters Of Mercy, hard as a rock "Temple Of The Torn", ravishing "Voices Of Doom" - "The Clock Ticks On" once again will instil its choral-rock lightness and musical sublimity at the same time Hermes like wings to your gothic sandals, Kubot's flaps, Demonia's, musketeers' boots or black pumps. And if by any wonder you have not met Mono Inc. – it is a great opportunity to make it up.
Tracklista:
CD1:
01. Arabia
02. Gothic Queen
03. Symphony Of Pain
04. In My Heart
05. Voices Of Doom
06. Seligkeit
07. Get Some Sleep
08. Temple Of The Torn
09. My Deal With God
10. This Is The Day
11. After The War
12. Nimmermehr
13. Revenge
14. From The Ashes
15. The Hole
16. Superman
CD2:
01. Arabia (acoustic version)
02. The Best Of You (acoustic version)
03. Somberland (acoustic version)
04. In My Heart (acoustic version)
05. Voices Of Doom (acoustic version)
06. Seligkeit (acoustic version)
07. Symphony Of Pain (acoustic version)
08. Get Some Sleep (acoustic version)
09. Potter's Field (acoustic version)
10. Temple Of The Torn (acoustic version)
11. Revenge (acoustic version)
12. Twice In Life (acoustic version)
13. After The War (acoustic version)
14. This Is The Day (acoustic version)
15. Gothic Queen (acoustic version)
16. My Deal With God (acoustic version)
Other articles:
Newest comments: