MONO INC. - Twice In Life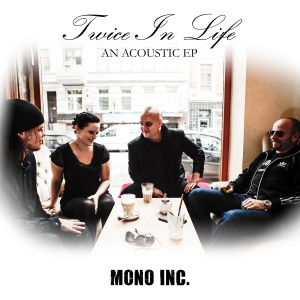 Reads: 2315 times
55%
Artist:
Galleries:
CDs catalogue:
Gothic rockers from Germany thanked their fans for their support and dedication in 2013, releasing on daylight digital EP "Twice In Life". It has its premiere on 15th October last year and it is available for free as a download on Soundcloud.
This musical release consists of 6 tracks, where out of title one, and the first on the EP, "Twice In Life" is a completely new song of Mono Inc. Then, in turn, we can hear four acoustic versions of songs from previous albums of the group, as: "Seligeit" and "My Deal With God" from "Nimmermehr" also issued in 2013, "Grown" from "After The War" (2012), "Gothic Queen" from "Voices Of Doom"(2009) and "Kein Weg zu weit" in unplugged version, also from "Nimmermehr". "Twice In Life" is a typical delicate, melodic composition, seasoned with beautiful vocals of Kathi in chorus. Video for that track is available to watch on the official profile of Mono Inc. on Youtube. Another one, transformed "Seligeit" deserves a special mention because of the interesting tact in Martin's vocal, sounding in refrain as a bard's singing. In this track the typical industrial layer was replaced by rhythmic, gentle sound of guitars. "My Deal With God" in its acoustic structure closely resembles "Twice In Life", thereby nothing remarkable caught my attention, because even in this mutation it is paradoxically very close to the original one. In contrast, a calmer approach in "Grown" is, in my opinion, the best creation on this EP. In this edition, each line of text that is sing takes a truly romantic expression, it has a far more spirited, melancholic character. I can even risk statement, that acoustic "Grown" is proverbial icing on the musical cake. "Gothic Queen"... well, I was not drew by presentation of the song, which decisively wins in its natural adaptation on "Voices Of Doom" album. In addition, the last "Kein Weg zu weit" in its muted option, also does not appeal to me - the listener, it does not grab, it is boring, and that is a pity...
Thus, to finish, I say that after having over a dozen hearings of Mono Inc. camp work, it has certain flavors in sound, such as acoustic version of "Grown". However, although I am not fan of the group, I strongly prefer "harder" sound of their songs. To be appreciated deserves fact that as a band playing a variety of gothic rock, they are not conventional and by distributing this type of musical gifts, they try to take care of their fans all the time, showing them in that way their gratitude.
Tracklist:
01. Twice In Life
02. Seligeit (acoustic)
03. My Deal With God (acoustic)
04. Grown (acoustic)
05. Gothic Queen (acoustic)
06. Kein Weg zu weit (unplugged)
Other articles:
Newest comments: