Sort by: Title


Add date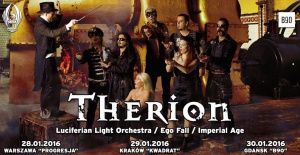 Therion + Luciferian Light Orchestra, Ego Fall, Imperial Age in Cracow
2016-02-17 /
morrigan
/ Reads: 2031
The concert adventures of 2016 started in Cracow's club Kwadrat. On 29th January the club hosted the Swedish giants of symphonic metal, namely Therion. Christofer Johnsson's band played three concerts in Poland (Warsaw, Cracow and Gdańsk) as a partof European Tour 2016. Three supporting bands and two-hours long concert of...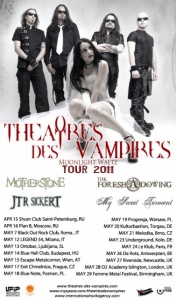 Theatres des Vampires + Motherstone + My Sweet Torment
2011-06-02 /
hellium
/ Reads: 3506
Blue Note is mainly familiar to real enthusiasts of the jazz sessions. This time a group of musicians presenting totally different style of music were invited to perform there. For a start, My Sweet Torment gave their show. The band's members were wearing diabolical masks that a random black...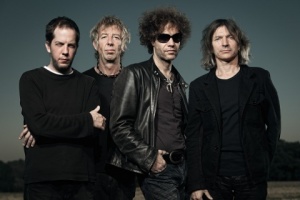 The Young Gods
2011-03-15 /
murd
/ Reads: 2386
The jubilee tours of the legendary bands constitute rather standard, even customary a trick in the music industry. Undeniably, such ventures evoke a sort of nostalgy and cherish a majority of fans yearning to see their favorite group, refer to the times of its prime, confront its earlier form with...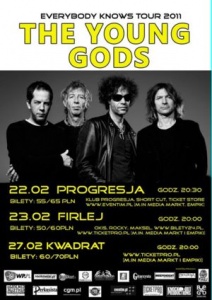 The Young Gods
2011-04-28 /
soulfake
/ Reads: 2707
The Young Gods visited Wrocław on a very freezy evening of 23rd February. A sizeable group of fans of different age – from teenagers to people at the age of the musicians - arrived at Firlej club. Taking this fact into account, the old saying stating that the music embraces...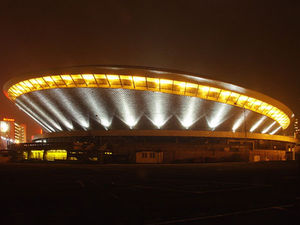 The Prodigy - Their Singles Tour
2006-06-02 /
Vesper
/ Reads: 4715
Why only now, you may wonder - hah, after such an event you need some time to get back to normal and look back at that night from a proper perspective. You must have heard a lot other reports, making you think that your absence was one of the biggest...
The Mission + Fields of the Nephilim + Gene Loves Jezebel
2011-11-12 /
ShinePoisonIvy
/ Reads: 4943
Tickets for XXVth anniversary of The Mission in the Brixton Academy O2 were sold out many months before a memorable date 22 October 2011. When it was announced, that Wayne Hussey himself invited legendary frontman of Fields of The Nephilim - Carl McCoy to cooperation,one could almost forget about the...