Abracadabra Gothic Tour 2014 Warsaw - Closterkeller + Archangelica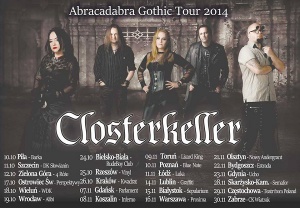 Reads: 4091 times
Artist:
Galleries:
Last topics on forum:
Warsaw's Proxima is rather small, atmospheric club close to the dorms of UW. Thus, area is naturally in favor for entertainment and fun. For tired or "tired differently" in the club there is ability to follow events, from the part located on platform and equipped with comfortable seating and tables. But on that evening not many people took advantage of this opportunity, as we were served a decent dose of entertainment. There was too much happening on the scene to rest comfortably on seats.
Archangelica
.
Started at 19.50. Time for a warm up before the star's show. In the stage's darkness appear
Archangelica
with a strong voice of singer accompanied by drums, bass and two guitars. There is densely from the beginning next to the stage. Since the beginning you can see that band and especially frontman, Krzysiek Sałapa has a great contact with audience. You cannot deny men can play and it is definitely concrete. Tracks' rhythm is marked by a good cooperation of strongly accented bass and percussion. They are good to listen and to watch on the stage. Presented tracks come from the debut album "Like A Drug". As an encore we heard new song "Dark formation in the sky". It was just the second public performance of that track - the first took place a week earlier at the concert in Toruń - also with
Closterkeller
. Performance ends a solo show of the guitarist. About 20.35 ends up this successful gathering with that interesting group. Band presents very good on stage and what is noteworthy performances at the concerts are top quality. The only thing which I think they should work on a little bit is image on the stage - introduction of some leading idea, maybe unifying clothing of musicians.
Lineup:
Maciej Engel – guitar
Robert "Qba" Kubajek – drums
Krzysiek Sałapa – vocal
Arek Gawdzik – guitar
Jakub Kolada - bass
Setlist:
Intro + Light Transmission
Like a drug
The Journey
Midnight train
Cathedral
When all is gone
Dark formation in the sky
Closterkeller
21.14. On the stage appears band, dressed in hand-painted, fluorescent t-shirts. It is a bit surprising and at the same time intriguing image. Concerts of
"Closterkeller"
are annual ritual for me but with this lineup I see them for the first time. They start with a "top level". Words from released in 2003 "Nero" album "żegnaj mój miły, dobrze wiesz, za kłamstwo cios, za zdradę krew!" today sound extremely strong and can be read in different ways. But never mind today's interpretation. Something else is important. Already after first sounds it is known today who will rule multiply gathered audience. Anja is by all the time in great form. The group did not loose on the reconstruction of lineup, but quite contrary.
I have an impression and after few tracks I am even sure that this team plays definitely harder than previous incarnations of the band. I was extremely curious how will sound on stage Lady with a nice name Zuza. There is no need to talk, she rocks on guitar pleasantly. After playing second on the list "Supernova" track happened thing, for which among others I love Anja. Her stories and anecdotes from history or life are always worth to listen. On that evening we heard truth that made everyone laugh and I think it will last in the memory of a more beautiful part of the audience. She was talking about parting with both guitarists and that they unnecessarily quarreled with Her. Unnecessary because "... it is known that I am always right...". After "Między piekłem a niebem" we heard the first of four planned for that evening new songs. Beautiful, poetic lyrics and after calm beginning with keyboards hard entry of sharp guitars "To albo to". None of its relevance has lost subsequent on the stage, charismatic "Agnieszka"... it has been so many years and that track is still actual, fresh and magical. Great text and perfectly harmonized with it music create a perfect blend. A formula to follow up for songwriters. An interesting novelty hides under the working title "Paprot" song about Marcja and searching for the fern's flower. Listening to that track you can ask yourself whether harsh, guitar's music and poetic lyrics can coexist in perfect coexistence? They can, and how. "Paprot" is the perfect example. The third fresh "Transowy" was a double surprise. Musicians on the stage were accompanied by a dancer, but it was made without female vocalist taking part in it. This interesting instrumental track was finished by a great solo performed by Zuza. It is shame, it was only a several dozens of seconds. Break in singing Anja used to change clothing - now it is more gothic and "Serce" started. Participants of the concert received one more surprise. Songs "Władza" and "Klepsydra" were sung with the conversion of texts. Just like in the original, 18 years ago they were written. Only request from band's members led Anja to the conversion and release of versions well-known today. Aforementioned example shows how lyrics paired with music can elevate song to the top or if it is not a successful merger does not rise it to the heights and sometimes almost bury it. It is time for the last of new tracks "Pokój tylko mój". Somewhat autobiographical for Anka AD 2014. Excellent "Na krawędzi" moved already awaken audience. "czas mój największy wróg, najlepszy przyjaciel...". Half of the room danced and sang that chorus, including me. Good it was loud because my vocal performances even at the weddings, in the morning, are not wanted to listen. Great "Graphite" in the end... almost in the end. After a short break on stage appeared dancer again and from the speakers resounded amazing "Violette". And so we got to the end, like in a clockwork. It is 23.00 and on the stage there was silence.
All musicians who performed on that evening on the stage deserve praise. Particularly noteworthy in my opinion is drummer Robert "Qba" Kubajek. He was probably the most busy man on that evening. And it is not because it is a hard physically occupation. He simply handled both concerts.
It was a very successful evening, you can only wish for more of these.
Closterkeller
in new lineup took a freshness and vitality. I cross my fingers and see you at the next shows.
For me concerts of
Closterkeller
are not just a musical event. It is something more. This is performing art, almost theater in that good, worth of that word meaning.
Anja Orthodox
– vocal
Michał "Rollo" Rollinger
– keyboards
Robert "Qba" Kubajek
– drums
Aleksander "Olek" Gruszka
– bass
Zuzanna "Zuza" Jaśkowiak
– guitar
Setlist:
Nero
Supernova
Między piekłem a niebem
To albo To (new)
Agnieszka
Królowa
Paprot (new – working title)
Tyziphone
Zmierzch bogów
Instrumentalny (new)
Serce
Władza (with lyric from "Klepsydra")
Klepsydra (with lyric from "Władza")
Pokój tylko mój (new)
Na krawędzi
Graphite
Scarlett
Violett
Other articles:
Newest comments: