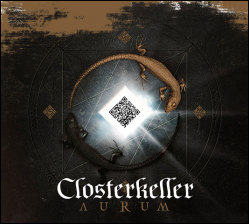 Reads: 7458 times
85%
Artist:
Galleries:
CDs catalogue:
Last topics on forum:
Golden Closterkeller is back with another album in 13 scenes of poignant melodies. It is said that the returns tend to be hard. The return of our home band was related to the adoption of the new album simply because the band still existed and played concerts. From the previous album "Nero" has passed 6 years.Band at that time passed the exchange of musicians. They said goodbye to Marcin Mentel (Freddie), Marcin Płuciennik (Pucek) and Gerard Klawe (Gero). They all left in 2006. In their place Anja Orthodox invited to cooperate Mariusz Kumala (guitar), Janusz Jastrzębowskiego (drums) and Krzysztof Najman (bass) has returned. In new lineup the band played another Abracadabra Gothic Tour during which the fans were able to hear the new songs in demo versions included on "Aurum". We waited a long time, probably many more announcements to issue a new CD were treated with a pinch of salt (so I had personally) but Closterkeller finally fulfilled its promises and after finding a publisher went to the studio. So for words of admission. Now more about the music.
Remember album "Nero"? Everything on this album that irritated-mainly in the sphere of record quality at "Aurum" is not the case. The music and the text layer is completely different story, however not without drawbacks. The weakest moments in my opinion are 2 tracks. The title "Złoty", which bores from outset with shoddy suffering of a lonely woman. Text itself is arranged like a nauseating line of desperate teenagers. Another is "Nie tylko gra", dedicated to computer games with the children's chorus in refrain.Anja's voice in this song is probably correct and this the only advantage.
Fortunately for "Aurum" there are more good moments. We can found fast tracks like "Ogród półcieni", "Nocarz" and "Deja Vu" and also calm and beautiful ballades.Among them some distinguished like"Na nic to " which is rich in emotions, not necessarily those optimistic.Thanks to this it's a sad song which in a very characteristic for Clostekeller creates depressing atmosphere intensified by heavy guitars in the chorus. Pleasant to the ear also creates a bit of a ballad "I skończona bajka" which describes the experiences of mother whose child is slowly entering the adult world, where he will experience a completely new feeling - fear and pain.It's a second scene of "Babeluu"-from the album" Violet ". The album ends with a quiet" Królewna z czekolady", which is dominated by free guitars and delicate Anja's vocals.
Motif of the mother at the album is very important, because it includes a number of facets. Here we see a picture of an adolescent child's mother, a mother suffers a consolation when her child goes to fight for the motherland and mother above all women torn into two halves between different emotions. And that's why "Dwie połowy "for me are the most conspicuous moment on the album. I like the dynamics of this song, a strong chorus, and that it is devoid of unnecessary complaining.
In summary, Closterkeller released a very good album, with no mishaps, professionally recorded.We can see that musicians and Anja feel great satisfaction from its inception, which emphasize the numerous interviews. During the concert of Abracadabra Aurum Tour they proved that they are well and play as mature musicians, drawing on what they do with a great pleasure.
Tracklist:
01. Ogród półcieni
02. Złoty
03. Nocarz
04. Vendetta
05. Na nic to
06. 12 dni
07. Deja vu
08. Nie tylko gra
09. Między piekłem a niebem
10. I skończona bajka
11. Matka
12. Dwie połowy
13. Królewna z czekolady
Other articles:
Newest comments: