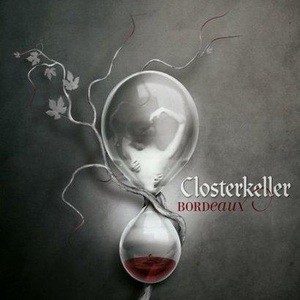 Reads: 4001 times
50%
Artist:
Galleries:
CDs catalogue:
Last topics on forum:
The long-awaited, ninth album of Closterkeller was released on 16th September last year, of course it has its own colour, this time deep red, like blood, like wine...
It's so good that the cover is actually not deep red but nicely grey. The project by Albert Bonarski is completed by fabulous photographs by Katarzyna "Aradia" Tyśnicka. The motif of hourglass, which after being broken takes revenge against the heroes from Anja Orthodox's story, sprouts of grapevine and lovers' embraces reveal the concept of the album. The sounds of Bordeaux are a mixture of darkness, intimacy, mystical love, tragic struggle with fading and faith.
Unfortunately only a few tracks is worth attention. "Fala" is an oneiric and light track. The crying of waves, vocals resembling the song of sirens, wind, letter written in sand, the breath of sea. It is a wonderful story about looking for destiny and love. "Pryzmat" evokes fear, the initial solace in the arms of the beloved begins to fade away and supernatural powers poison the everyday life. The next track – "Tyziphone" is one of the most powerful accents of this release. It tells about one of the Erinyes, revengeful and merciless and her bringing justice to killers. "Miodowy kwadrans" and "Kręgi czerwone" constitute a whole, they are bound by piercing sound of bells. The longed-for escape of the lovers ends in his death. And her despair. The concept album ends with "Jak łzy w deszczu." Light, piano-electronic backing is a background for mournful consideration about the death of the beloved.
I wasn't enchanted by the album. The lyrics seem to be unfinished. They are rotating, revealing too fabulous world of mystics experience. Exaltation covers the moments of emotional idyll entwined with the darkest, bloody drama. Although during the concerts this track list has changed into metaphysical, winsome performance, at home, without appropriately dark atmosphere it becomes an exaggeration and momentarily even grotesque.
Tracklist:
01. Pora iść już drogi mój
02. Fala
03. Bordeaux
04. Alarm
05. Abracadabra
06. Pryzmat
07. Tyziphone
08. Halo Ziemia!
09. Bez odwrotu
10. Miodowy kwadrans
11. Kręgi czerwone
12. Serce
13. Jak łzy w deszczu
Other articles:
Newest comments: