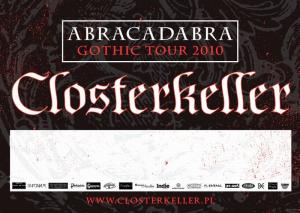 Reads: 5679 times
Artist:
Galleries:
Last topics on forum:
Once you come across with Closterkeller's charm, it entrenches as deeply as a root growing into its native soil. The strength is founded by the majestic voice of Anja Orthodox, enriched by the sound matter constructed on dreary but melodic, sometimes guitar tones. The Polish Goth Scene's black horse arouses extreme feelings. Those who were never captivated, will now always oppose. The controversy surrounding Closterkeller has continued over 20 years. Nevertheless, the band Has established a reputation mark that makes the concert halls always full.

There's no need to look for confirmation. The Blue Note club in Poznan was bursting at the seams. The 6th edition of the Abracadabra Gothic Tour 2010 was attended by herds of audience hungry for concert excitement. But before the headliner appeared on stage, they were supported by the project Synchropath from Wroclaw. Even their style of sound was slightly different than Closterkeller's one, they were still a grand filling while awaiting for the star. By some characteristic manners appearing in each of the tracks we knew what to expect of the next one. Concentration was wafting in the air, unfortunately only around the stage, further in the hall buzz of the drinking troupe was a bold mark of lacking attention to the performance. It seemed that the music was disappearing in the crowd. Their specific musical style is, yet worth listening, in some characteristic way hackneyed. Probably that was the reason of not much interest.



When the gathered crowd tightened up in the whole area in front of the stage, we knew that in a moment we'll hear the applause and the wished-for melodies will sound. Anja was dressed up to the nines and together with the musicians she drew the gazing audience into the whirl of melancholic sound cascade. A unusual attraction of the show was the fact that it was divided into four different stores closed up in four separate sets. They started the performance from the normal set and the song "Kiedy latam". The lacy, gothic mood seemed to have caught even the barmen. The first part ended with Anja's speech about religion and the track "Ate". The acoustic set surprised us with a new piece entitled "Quasilogiczny". We could delight in the nostalgic "Fortepian", which was the browning of the acoustic part and transition into the third chapter of the concert story – to the black set.

But before they served us the black atmospheric "Nero", Anja marked the darkest part of the show by putting on an outfit in the evening-mourning style. However, it was't the dress that amazed all. The dignified music was piercing the gathered. But the gloomy mood was taken with a pinch of salt. Despite the seriousness, the whole performance was unusually smoothly presented. From the very beginning Anja had no single problem with making contact with the public, and this good vibe lasted for the whole show up to the last track of the rock set. The latter, being about 20-minutes long, began with "W moim Kraju". But the geatest hit appeared to be a zappy new song – "Król jest nagi". The hardest and also the last track from the latest album "Aurum", was one inspired by, and having the same title as, the cycle of novels by Magdalena Kozak, "Nocarz". This spectacular tone caused the hall resounded with thunderous applause.
Cheerless gothic faces, as befits, were glowing inside with mournful ecstasy. The injected musical rapture was still throbbing in veins. It would be hard to find a negative opinion about the concert. The band knows well how to use their music itself to make a show, how to entertain, make laugh, how to move us to tears. Closterkeller plays an earthquake.



Setlist:

normal set: about 30'
Kiedy latam
Violette
Ogrod połcieni
Dwie połowy
Ate

Acoustic Set: about 20'
Królewna z czekolady
Władza
[new track] - Quasilogiczny
Fortepian

Black set: about 40'
Nero
Miraż
Matka
Dwa oblicza Ewy
Między piekłem a niebem

Rock set: ok 20'
W moim kraju
Nie tylko gra
[new track] - Król jest nagi
Nocarz

Pages:
Other articles:
Newest comments: