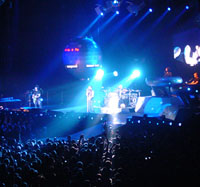 Reads: 12395 times
Artist:
Galleries:
Last topics on forum:
On the March 14th - on the biggest polish concert stage in a hall - Spodek in Katowice - over 9000 fans could see and hear live Depeche Mode - the legend band from english city Basildon. Tickets for this show were sold out many months before the show, and as an effect - Spodek was totally filled with fans on Tuesday night. We've come to Gorny Slask two days before the show so we were not tired, we could also visit for a few hours before party in Megaklub. We've met some friends there, drink some beer and dance a little bit on the dancefloor - typical warm up. Just before 7pm we came at the gate of concert hall and fortunately got in without any serious problems, 30 min before The Bravery who were supporting DM during this show. Warm up band was nothing special in my opinion, i dont like such a mix of english punk, The Cure & somethin' mix. I dont see them as a big stars with this music and this dress of drunk vocalist. Then 9000 fans waited for Depeche Mode and Intro, which started right on time - just a few minutes after 9 pm. Tha Hall was full. We didnt have great sits but it was on top of sectors so the view was magnificent. The scene was smaller than usual durig Touring The Angel but still perfect with visuals made by famous Anton Corbijn, a director of DM and f242 videclips. Depeches started concert with songs from latest LP - Playing The Anglel mixed with some old hits and songs performed solo by Martin Gore. After every song the crowd was scanding 'Depeche mode, depeche mode!' and 'Martin! Martin!'. During the second part - DM played all smash hits as 'Personal Jesus', Just canty get enough', 'Walking in my shoes', 'Enjoy the silence' and more. At the great final, Dave Gahan and Martin Gore played both on special catwalk a ballad 'Goodnight Lovers'. According to fans opinion who were on concerts in Germany and Prague, it was the best show during TTA, the band was great and the audience also (even Dave said so to fans in Spodek).
Definitely it was one of major concerts in Poland during last few years.
After the concert we joined hundreds of fans at the Megaafter party in Piramida club, we've spend time till 5 am dancing, drinking and chatting with many friends from all over Poland. The plan was executed in 101%.
Setlist:
Introspectre
A Pain That I'm Used To
John the Revelator
A Question Of Time
Policy Of Truth
Precious
Walking in My Shoes
Suffer Well
Damaged People
Home
I Want It All
The Sinner In Me
I Feel You
Behind the Wheel
World in My Eyes
Personal Jesus
Shake the Disease
Just Can't Get Enough
Everything Counts
Never Let Me Down Again
Goodnight Lovers
Other articles:
Newest comments: