DM convention + koncert Digital Factor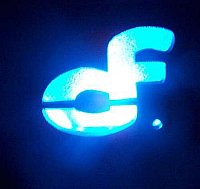 Reads: 17572 times
Artist:
Galleries:
Last topics on forum:
On 26th November 2005 in the club " MayDay" in Głogów the next Depeche Mode fans meeting took place. The event was organized by the FC Little Pleasure. This time the meeting was enriched by the concert of German group EBM - Digital Factor. We got to the club quite fast after a nice train travel that we spent together with the other habitues of Poznań DM parties and some comers from other Polish cities. When we got to the club the party had already begun. The DF'S concert lasted more than an hour they gave 2 encores. The band warmed up the Polish perfectly : they played their best tracks including RAPE ME – the song that me and our user AGAT particularly begged for. After the concert, the members of the band joined the fans and they stayed with us till the morning.
During the meeting the competition results were announced – the ticket to Paris and for the concert of DM won DRU from Kościan. There was also a traditional Dave dancing competition, but this time I won't talk about it at length, the privies know why, hihi. There was plenty of food and drink in the bar, there was also a stand where fans could buy CDs and T-shirts. It became a rule, that during DM fans meetings it's snowing, so was this time. When we went out of the club at about 6 o'clock in the morning we had the first this year snow ball fight. To summ up – it was avery good party, congrats fot the organizers, and well... see you on the next edition that will take place in 2006!
Other articles:
Newest comments: