Gdzie oni są? muzyczne wspominki z lat 80.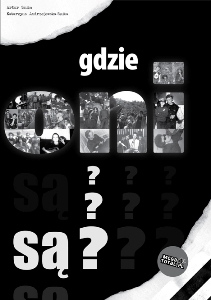 Reads: 7408 times
Artist:
Galleries:
CDs catalogue:
Last topics on forum:
"Where are they?" it's a book recently published, containing memories of people creating the 80s music scene in Poland or they were the recipients – all those for whom music is the meaning of the life. Among the interviewed people were Anja Orthodox (Closterkeller), Jerzy Owsiak, Krzysztof Jaryczewski (the previous frontman of Oddział Zamknięty), Glaca (Sweet Noise, My Riot), Przemek Bajew (DHM), Kodym (Apteka) or popular today journalist Monika Olejnik, among others.
So, we get the Picture from 80s and 90s as seen from the angle of music but shown from different sides. This is remarkable experience because we're contacting at the same time with generally facts as well as with a few curiosities or anecdotes well known so far. They are said by the visible names as well as by people which don't appear in the media at all.
It's worth to emphasis that book "Where are they?" was published thanks to the readers, concentrated in Megatotal.pl who have concurred to print the publishing company. Up till now, the community was known from financing discs of band iNNi among others, headed by Artur Szuba – publication co-originator. The band was supposed to give a performance only once – in January 2004, in the Warsaw "Park" club at the concert promoting "Where are they?". Something else happened instead and the formation is working to this day, having three discs in their artistic work.
-History is coming full circle for us. Thanks to the not published book iNNi were created, in order to the disc of this band, lead to its publication. It was a marvelous chain of events and how not to believe in angels – authors Artur Szuba and Kasia Andrzejewska are really enjoying.
The project was done in the authors' heads, at the end of 2002 when Kasia and Artur decided to list people memories for whom 80s of bygone century were unique, too and to publish them as a book.
During this decade, in Poland rock was budded and settled for a good in his different forms. The authors of this decade were going to the concerts, clubs, radio and were asking the same questions: what for you were 80s and how did they mold you?
-We were talking to the most varied people: musicians, journalists, acquaintances, with everyone who had something to tell in the music theme, seeking jeans for the first time in life or getting vinyl discs "- authors recall.
- With time we have gathered quite sizeable text and photographic material. People were giving us their old photos, souvenirs, tickets, fanzines… We've even organized a few concerts, promoting the project in order to unexpectedly instead of the bookstores shelves – found the way to the drawer – Szuba and Andrzejewska are saying.
-It's a very good idea with this 80s memories. Present kids have started being interested of this époque some time ago and by the way fashion for the kitschy baubles or "new-romantic tones" and disco dimwits can finally better and deeper know the breaking decade, because 80s were for Polish history really unique. Political and social situation and whole this poverty which overtook us, had to have the influence for cultural life and for what happened in our heads – and finally for the music of young generation" – we can read in the introduction of the authorship well known music journalist Marek Wiernik.
The book "Where are they?" has 256 sides, where we'll find: interviews, columns and memories of musicians and fans among others, whose alone contributed the musical market of 80s past century or they were his recipients, whether also simply were growing up in those times. There are 72 and in this group we can find, among others Anja Orthodox, Krzysztof Jaryczewski, Piotr "Glaca" Mohamed, Monika Olejnik, Sławomir Ciesielski (Republika), Marek Kościkiewicz (founder of De Mono), Adam Nowak (Raz, Dwa, Trzy), Jerzy Owsiak, Piotr Stelmach, Mikołaj Lizut, Tomasz Żąda, Anna Ciechowska, members of the bands: Republika, Brygada Kryzys, Moskwa, Dezerter, Apetka, Blitzkrieg, Rezerwat, IŁ-62, Cool Kids of Death, and many other people whose had small or huge impact on the Polish music – as well as in those times and today.
The book is illuminated with photographs - archival, introducing interviewed people in those times as well as those living in present, showing, and where they are now. Photographs come from the private collections and for that reason they're mostly unique, earlier were published unusually rare.
Other articles:
Newest comments: