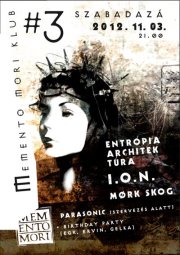 Reads: 7649 times
Artist:
Last topics on forum:
Though I've been to Budapest several times before and remembered it as a nice city, I stayed mostly at and around the Keleti train station. This time, however, we chose the Hungarian capital as our travel destination. We found the club
Szabad az Á
, located in a basement in the centre of Pest, where a classy Halloween party was taking place. In the main area post-punk and darkwave were being served, while a batcave/deathrock fest was going on at the other end of the club. A few days after this joyfully dark evening, we decided to come back to hear some live acts stage their contribution to the local scene.
Four bands were going to perform,
Ádám Bérces
, a minimal wave one-man-project,
I.O.N.
, a mix of industrial and new wave,
Entrópia Architektúra
, with a hard-to-define style, and
Parasonic
, a new wave project with psychedelic sound effects.
On trying to enter the gate to the club area, the security guy told us that there was nothing going on: "Finish!". Fortunately, we didn't believe him and went in as he shrugged his shoulders. The club was indeed open and there was an entrance fee of 500 Forint (about 2 EUR/7 Złolty) – a bargain to see four concerts.
Downstairs in the not so crowded club we found a place close to the stage. It was dark there, but not for a long time. The lights went on and Ádám Bérces took place on stage. Dressed in a casual brown jacket, not looking at the crowd, he prepared a small table with synth, mixers and two microphones. That's all you need for a perfect minimal wave experience.
Like an engineer Ádám stood behind the table, adjusting some buttons and manipulating the synthesizer. His music was dark, a mixture of darkwave and minimal wave, and reminiscent of acts like
Snowy Red
,
Ohama
or
Dark White
. Ádám played approximately 12 songs and sang mostly in Hungarian, except in a cover of
Kraftwerk
's 'The Robots'.
After the performance I had a short talk with Ádám. Because of his professional stage appearance I was really surprised to hear this was actually his first concert. He told me his lyrical work is influenced by the 80's cyberpunk movies (
Blade Runner
,
Hardware
,
Mad Max
, …). He has a classical music education, plays the trumpet and is also involved in other musical projects of different kinds (Kraschau, Mørk Skog).
The second group was called
I.O.N.
(short for:
Irrational Orthodox Noise
). Their music was a mixture of various styles, it had psychedelic elements as well as a feeling of art rock and new wave. Life came into the audience, which moved closer to the stage.
I.O.N.
consists of two members, a guitarist/singer and a drummer. They also included electronic samples into their music which was very much drum-driven, almost tribal style. Maybe that's why they reminded me a bit of
Juno Reactor
.
The concert, though, was lacking in motion. The guitarist was sitting on a high chair, the only apparent movement on stage were the fast hands of the drummer. However, the audience extolled them warmly with applause.
Then, suddenly, the lights went out - only to re-appear in a black and white visual turning clock-wise around the stage.
Entrópia Architektúra
took their turn. In the centre of the turning spiral, only the head of the singer was visible. The music started. Atmospheric, a long construction of tension. I had to think about the concert of
Clock DVA
at the Industrial Festival in Wrocław in 2011. But when the vocalist started to sing, I was quite surprised. Death metal grunts, unusual use of a bassoon, combined with an undefinable style, which even the five band-members have troubles to define it, as I found out on their homepage. Something between "ritual rock, industrial, experimental, paramental". They named Mahakala and Mahayana Buddhism as their influences. Upon reading this it finally makes perfect sense that the growls morphed towards the end of their performance to a hypnotic chant.
The fourth and last band of the evening,
Parasonic
, seemed to have some difficulties with the technology. In the end everything worked out and the three members were able to commence: a guitarist to the left, an effect-guy in the back and a female bassist, who would not shy away from more complex bass-patterns, to the right.
Parasonic
's music, mostly instrumental, is located somewhere between post-punk, new wave and experimental, the melodies strongly carried by the bass-sound. The effects were not always well-placed, however, this had in my opinion no consequences to the quality.
All in all, I really enjoyed this evening, and am glad I had the opportunity to get an impression of the local Budapest dark scene.
Ádám Bérces:
http://wave.adamberces.hu
Entópia Architektúra:
http://www.entropia-architektura.org
I.O.N.:
http://hubculture.blogspot.com/2009/01/band-profile-1-ion-irrational-orthodox.html
http://soundcloud.com/irrationalorthodoxnoise
Parasonic:
http://www.youtube.com/watch?v=_dUSag5JzEA
Other articles:
Newest comments: