Sort by: Title


Add date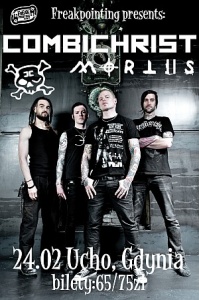 Combichrist + Mortiis
2011-03-02 /
murd
/ Reads: 7085
Combichrist, a band which is well-known, immensly beloved and venerated by all lovers of pulverising sounds, once again graced Poland with its visit, having chosen Gdynia as a perfect place for conducting a total musical destruction, so characteristic of this band. On 24th February a club named Ucho became a...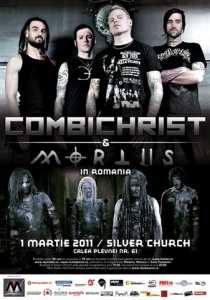 Combichrist + Mortiis
2011-03-24 /
Dorel Tudor
/ Reads: 4935
After a long waiting, the spring came and how can we celebrate this? One way is to go walking in the city parks or better to enjoy a special night with Combichrist & Mortiis, courtesy of Viva Music. Starting with 7.00 p.m., the club Silver Church opened its doors and...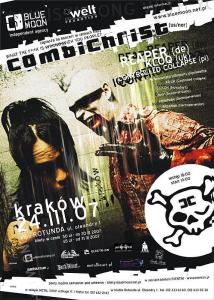 Combichrist + Reaper + Kloq + Controlled Collapse
2007-04-04 /
Ultima
/ Reads: 14368
On the 24th of March in Krakow's Rotunda, Blue Moon Agency organised a gig that is definitely going to be the music event of 2007 for many of us. Combichrist, Reaper, Kloq and Controlled Collapse – these bands managed to make us sweat our guts out. The crowd was really...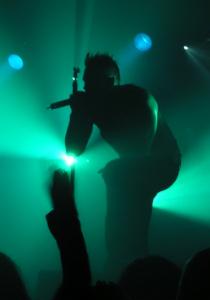 Combichrist, Reaper and Northborne
2007-03-23 /
Agressiva
/ Reads: 11622
Combichrist, Reaper, Northborne - Sheffield, 10-03-2007 . I haven't been hearing into the Northbone because of technical difficulties which I had to take care of, like locker room, shop, etc. Generally it was nice, although not so specular. Crowd reacted pontaneously to Icon of Coil cover played by the...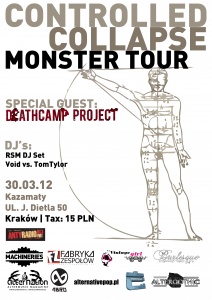 Controlled Collapse + Deathcamp Project
2012-04-19 /
morrigan
/ Reads: 6245
The aura of that day resembled the one from gothic novel or at least the one from detective story set in 19th century London. Gloomy, wet streets, fuzzy lights and some passersby from time to time, moving quickly through the city to reach their destination before another cloudburst. On that...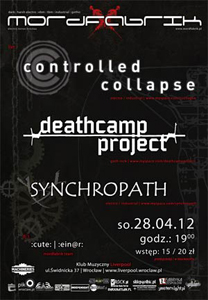 Controlled Collapse + Deathcamp Project + Synchropath
2012-08-19 /
ValoDeLight
/ Reads: 5629
Nearly a month, April 28, after the amazing Deathcamp Project and Controlled Collapse show in Kraków the time has came to take over Wrocław. This time line-up was enriched by a local band – Synchropath – playing EBM. The party was held in Liverpool club, known in the city for...